Whether you're a professional photographer or an aspiring enthusiast, renting photography equipment can be a cost-effective and convenient way to access high-quality gear for your projects. In India, there are several reputable rental companies and online platforms that offer a wide range of cameras, lenses, and accessories to cater to various photography needs. In this blog, we will explore the top rental companies available online.
However, we would like to stress here that you should be extremely careful in doing your own research on the reliability of the source you go with – we absolutely have no tried all these platforms ourselves, and there are scams aplenty on the Internet, so exercise a *lot* of caution first. Ask your friends, ask around, look for Google Maps reviews.
Photography Rental Providers in India-
Both platforms are famous for buying second-hand equipment, but they also provide gear on rental basis. These online classified sites allow you to find stores in your area that rent out camera gear. There are many scamsters on these platforms, though, so exercise your judgment very carefully.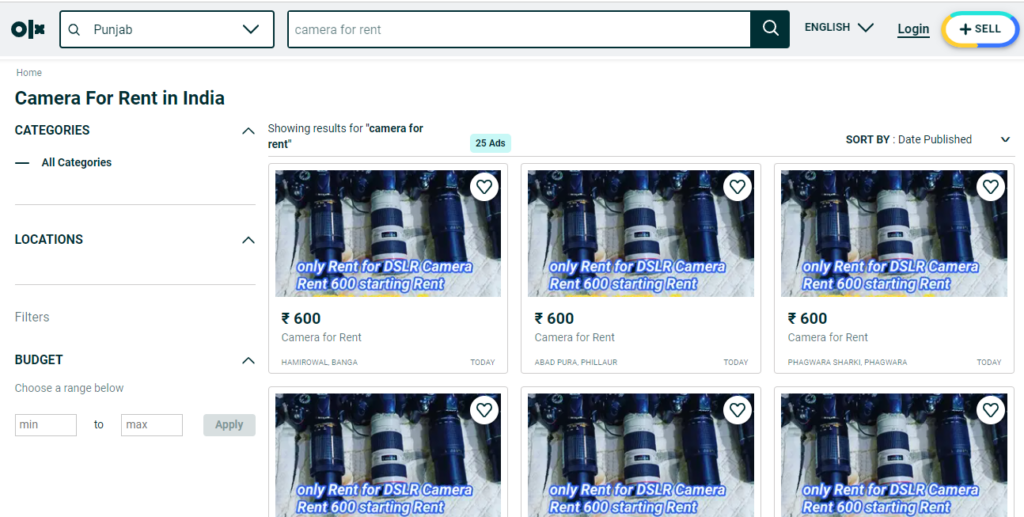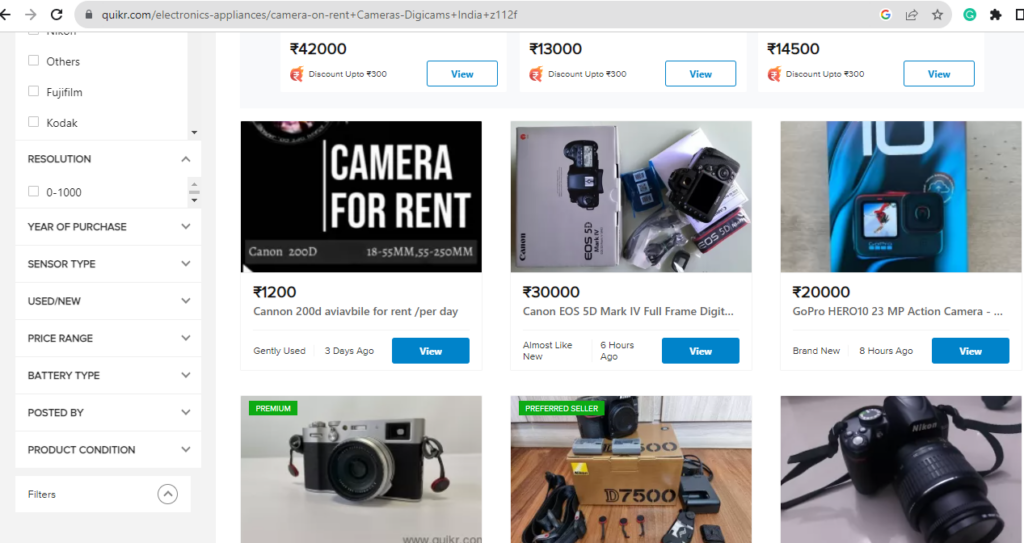 RentOclicK.com offers an extensive range of equipment to cater to all your creative needs. Whether you're planning a professional photoshoot, a wedding videography project, or simply exploring your artistic passion, they have the perfect equipment for every occasion like camera, lights, gimbals, etc. They have special packages for travel vlogging, film & cinema, wildlife photography and many more fields.
RentOclick delivers equipment on rent across the whole country. They offer in-person deliveries, pickups and returns, allowing customers to interact with their friendly and knowledgeable staff. In Delhi/NCR region, they also provide studios on rent for fashion photography, video production, product photography, etc.
Courtesy- RentOclick
SharePal offers a wide range of cameras, lenses, tripods, and more at incredibly minimal costs. With a commitment to making professional gear accessible to all, they give exclusive coupons to enjoy even more savings on their rentals. Convenience is paramount with SharePal, as users can easily place orders online and have their chosen equipment delivered right to their doorstep.
Additionally, for those seeking budget-friendly options, you can purchase refurbished gear at reasonable prices. They also have a "Renting by theme" option where you can rent all necessary gear for a trip at once, thus saving a lot of time. For example, if you are planning a bike trip to Spiti, you'll need action cameras, GoPro, SD cards, and backpacks along with riding jacket, boots, gloves, etc. Sharepal provides a complete list of necessities to choose from.
And if you are planning to start vlogging, read our comprehensive guide for essential gear for Vlogging in India.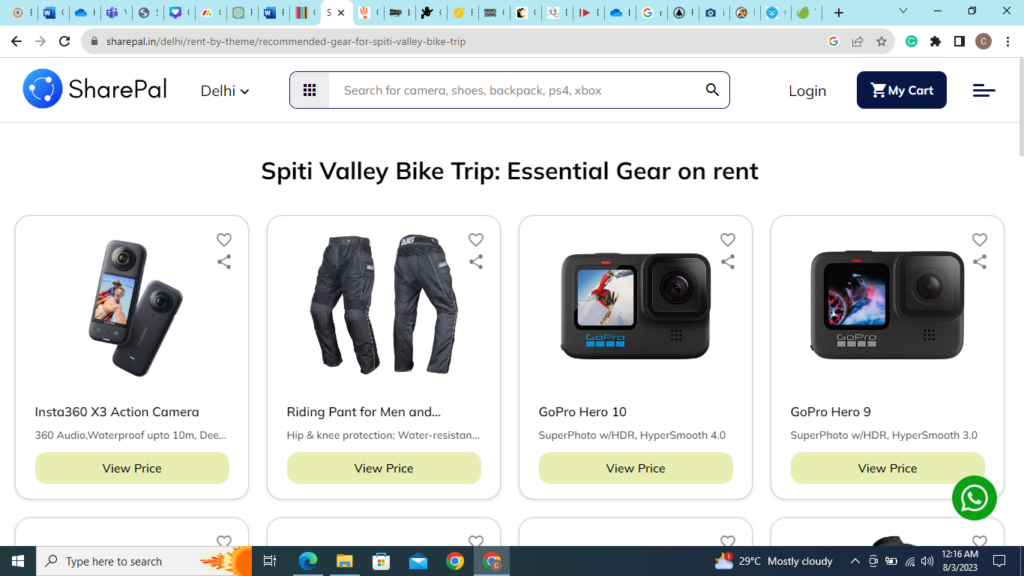 Courtesy- Sharepal
With a strong presence across Pan India, SharePal empowers photographers and videographers nationwide to embark on their creative journeys with top-quality equipment.
Bragpacker is your one-stop-shop for all travel gear, providing a wide array of equipment for your adventurous pursuits. Whether you need cameras and lenses to capture stunning memories or gimbals, headphones, and speakers for a more immersive experience, Bragpacker has you covered.
They provide doorstep delivery and pick-up making it convenient and affordable to equip yourself with premium gear for your next escapade. Additionally, if you find a gear you can't part with, Bragpacker offers a seamless buying option, allowing you to keep the equipment that perfectly complements your journey. And if you are confused about what to buy or need guidance to get the best equipment for you ,Bragpacker also has expert advice and usage tips to help you make the best choices.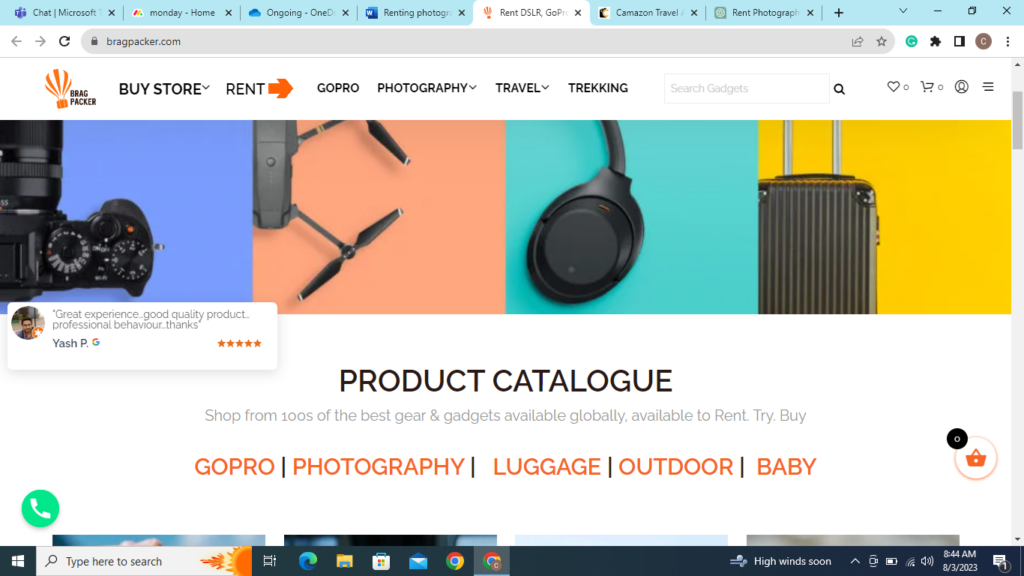 Courtesy- Bragpacker
Headquartered in Bangalore, Camazon is a photography wonderland that caters to enthusiasts across India. More than just a rental and buying platform, Camazon stands out for its commitment to nurturing photography enthusiasts through learning sessions conducted by acclaimed experts in the field. Camazon ensures that you receive expert support and guidance throughout your creative journey from buying gear to the functioning. You will also get the opportunity to go on photo tours led by professional photographers where you can practice your skills.
Imagine, buying a lens for wildlife photography and going on a trip to practice on field. To simplify your research, you can check out the necessary gear for bird photography here.
Whether you're looking for top-notch equipment, enriching learning experiences, or unforgettable photo tours, Camazon has them all.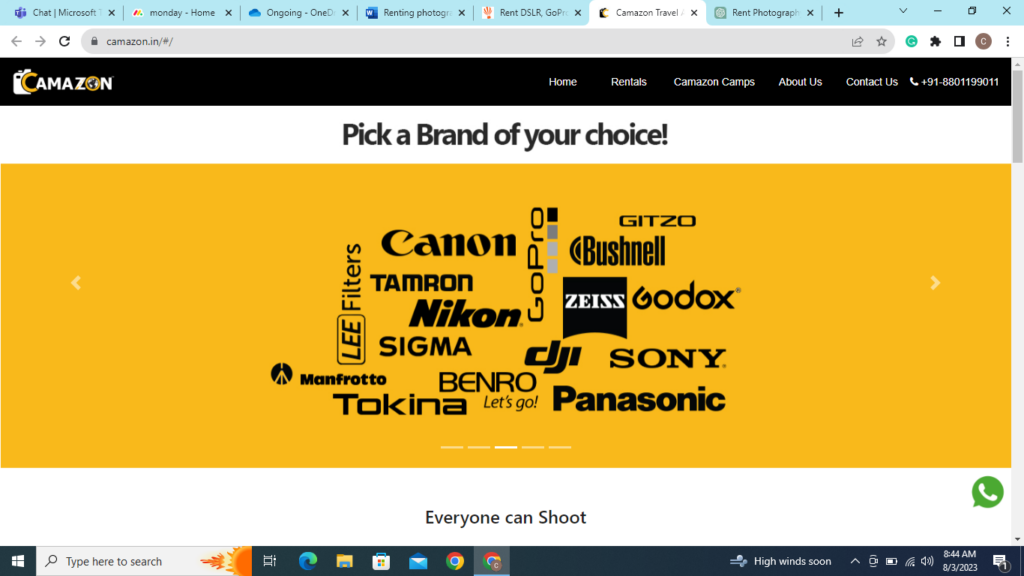 Courtesy- Camazon
While these rental providers are available across pan India, it's essential to consider local rental companies that may cater to specific cities or regions. Opting for local rental services can be beneficial for quicker pickups, personalized support, and better familiarity with regional requirements. Especially if you are a freelancer and need gear on rent for just 2-3 days, it is better to go for local shops. Here's a list of some notable rental companies along with the cities they serve:
Renting photography equipment can be a cost-effective and convenient option, but it's essential to take some precautions to ensure a smooth and enjoyable experience. Here are some tips and precautions to keep in mind while renting equipment:
7 Tips for Renting Gear in India-
1. Research the Rental Company:
Before choosing a rental company, read reviews, check their reputation, and ensure they have proper terms and conditions. Look for companies with good customer service and transparent rental terms. Reading testimonials and online reviews from previous customers can also provide valuable insights into the company's reliability and the quality of their equipment.
2. Inspect the Equipment:
When picking up the equipment, inspect it thoroughly for any damage or wear and tear. Take pictures of any existing scratches or issues and inform the rental company immediately. This will protect you from being held responsible for any pre-existing damages.
3. Understand Rental Terms and Conditions:
Read and understand the rental terms, including the rental period, fees, insurance coverage, and penalties for late returns or damages. Ask the rental company any questions you may have to avoid surprises later.
4. Purchase Insurance:
Insurance is crucial when renting photography equipment. Without insurance coverage, you could be liable for substantial financial losses if the gear gets damaged or stolen during your rental period. The rental company may charge you not only for the repair or replacement cost of the damaged equipment but also for any loss in rental income they may incur while the gear is being repaired or replaced. Many rental shops offer insurance options right at the point of renting. You can often add insurance to your rental agreement when you pick up your equipment. Alternatively, you can explore insurance providers specializing in photography equipment coverage. These companies offer policies designed to protect your valuable gear.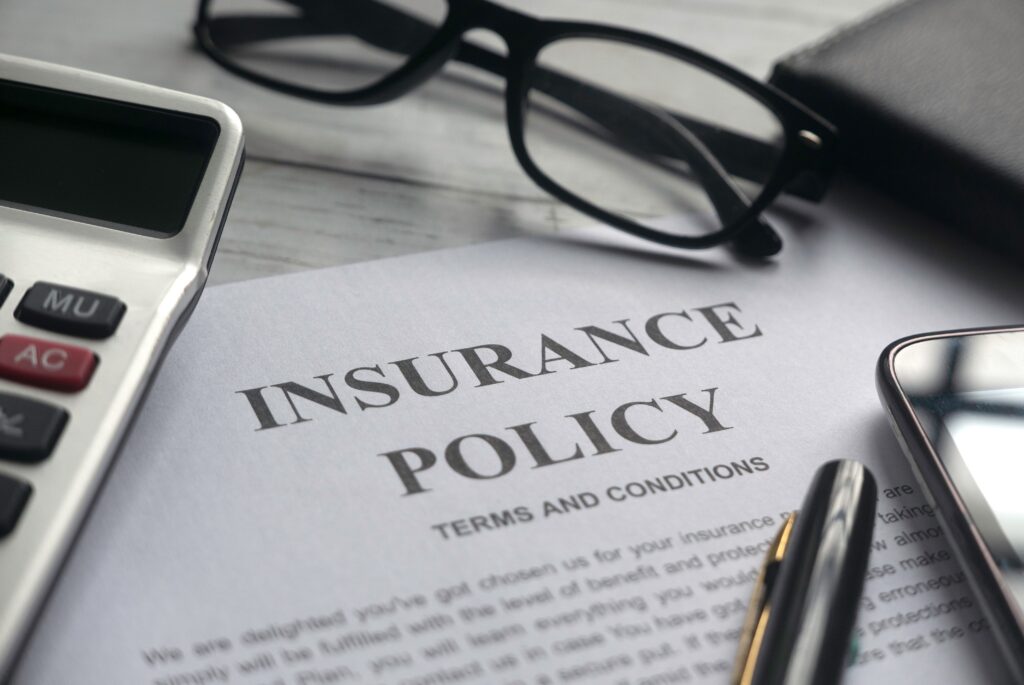 The additional cost of insurance might seem like an extra expense, but it is a small price to pay compared to the potential expenses you could face without it. It's always better to be safe and ensure your rental experience remains positive and stress-free by opting for insurance coverage.
Test the Equipment: Before leaving the rental location, test the equipment to ensure it is functioning correctly. Check camera settings, lens focus, and other features to avoid any issues during your shoot.
Secure Transportation: When transporting rented equipment, use protective cases and bags to keep them safe. Most of the rental companies offer backpacks so you can rent one from them. Avoid leaving the equipment unattended, especially in public places. If the equipment gets dirty while travelling, clean it before returning as some rental companies may charge cleaning fees.
Follow Usage Guidelines: Stick to the usage guidelines provided by the rental company. Avoid using the equipment in harsh conditions or beyond its specified capabilities to prevent damage. Keep the rental company's contact information handy in case you encounter any issues during the rental period or have questions. You can also our detailed blog about identifying and preventing camera damage to be more cautious.
Renting photography equipment in India offers a practical solution for photographers who require professional gear without a long-term commitment. Make the best use of this opportunity and explore photography and videography without worries. Whether you order gear online or rent it from a local shop, remember to follow the tips mentioned above.
In case of any queries, we are at hello@indievisual.in.