Event videography in India offers a unique opportunity to capture the vibrance, the joy, the emotions that come with being at a live event among hundreds or thousands of similarly inclined people. Whether you're covering weddings, festivals, corporate events, concerts, or social gatherings, having the right equipment is crucial to producing high-quality videos that leave a lasting impact. In our previous blog, we discussed about the basics tips for event videography in India. In this one, we'll explore the essential equipment required for event videography in India, with a focus on budget-friendly options that won't break the bank.
To know about this in detail, we spoke with Meghan Katti, a professional cinematographer and photographer. Meghan has been working in this field for around 6-7 years and has handled projects from being a DP to handling post-production. He has worked as a cinematographer for Zomaland 2023, High Holi 2022 and many more events. Fun fact – one of our founders ran into him at Magnetic Fields 2022, where he was handling Corona's brand video coverage for the event.
So, let's start with what gear you need to enter event videography in India.
But before starting with the equipment, you should know what you're going to capture.
Meghan says that to decide what camera you'll need, what perspective will suit the video and what the photographers need to focus on, you should know the reason behind the event. The main elements, the artist and the purpose of the event. Then only you'll be able to frame a story or journey.
For example, if you are shooting a music concert of Raftaar, you know that there's a lot of aggressive music coming in and the audience will love the craze. You'll shoot in a fast and grungy way, and you'll add shaky transitions that would suit the video. On the other hand, if Arijit Singh is performing, you know the audience will be more emotional. You'll cover their reactions in close-up still shots. If an artist is going to perform a recently released song, then you will have to prepare your shots in that way. Mostly confetti or smoke is added at that point. You can read more about capturing the magic of concerts.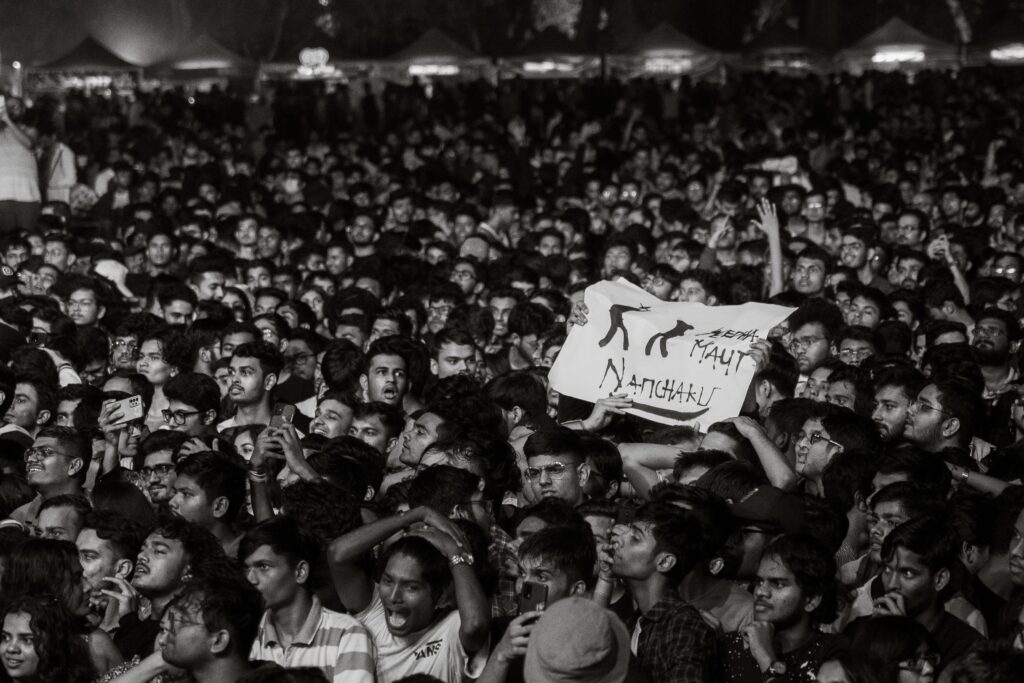 Courtesy- Meghan Katti
Gear for Event Videography
1. Cameras:
Of course, the heart of your event videography gear is the camera. You should invest in a DSLRsor mirrorless camera model that is known for its superior low-light performance and 4K video recording capabilities. You can also have multiple cameras that allow you to capture diverse angles and perspectives, providing dynamic coverage of the concert.
Meghan has a two-camera setup. He either uses his Sony Fx3 with a 24-70mm lens or Sony A7III with a 16-35mm lens or the fisheye. An A7III can be had for a budget these days if you're comfortable buying used, and will still serve you well for a few years. But If you really want to go for top-of-the-line videography equipment, you could choose:
Sony Alpha a7S III: A full-frame mirrorless camera renowned for its exceptional low-light performance and 4K video capabilities. It offers excellent dynamic range and high sensitivity, making it perfect for capturing stage performances.
Canon EOS R5: Another full-frame mirrorless camera that excels in both photo and video. With its 8K video recording and advanced autofocus system, you can confidently capture events in remarkable detail.
2. Lenses:
Everyone has their go-to lenses no matter what genre of photography they are in. Meghan's go-to lens is the fish-eye lens. According to Meghan, your lens choice is based on your approach and how you want the video to be seen on the screen. There are certain ways in which you can make the audience feel like they're a part of it.
A wider lens is always going to put the audience in the situation especially if you're walking with the lens or if you're running with the lens. The video will be shaky but that's the true essence of event videography.
"I can make a whole catalog just out of the fisheye pictures I have. And all of them will show you a different story and give you a different emotion."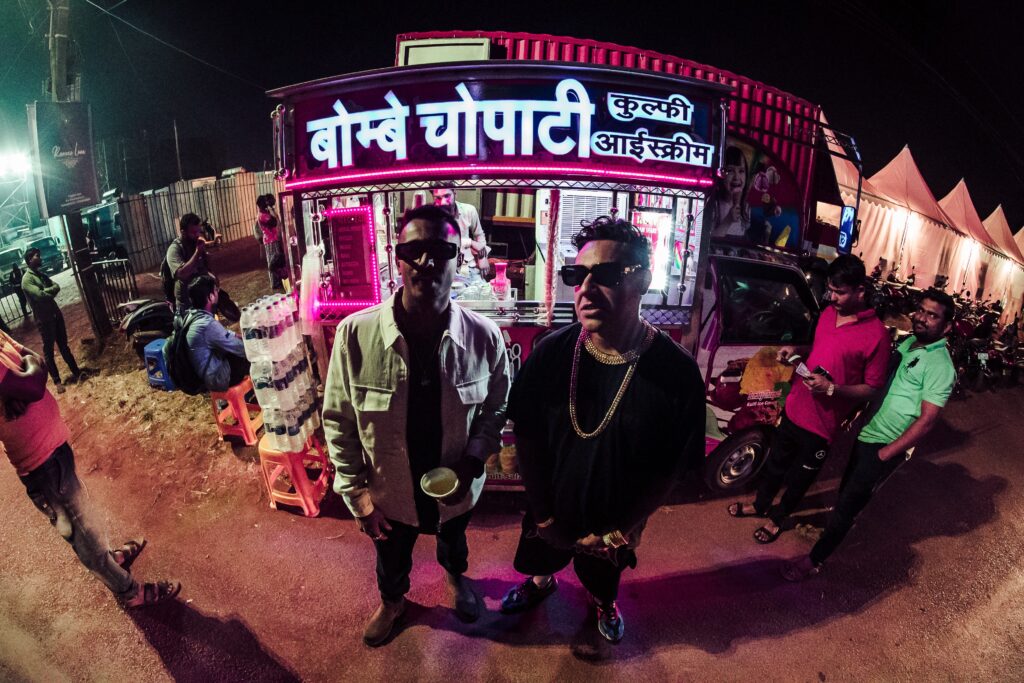 Courtesy- Meghan Katti
With a telephoto lens, you can shoot above 80 mm to match the perspective of a real-time view. It allows you to bring distant subjects closer, making them ideal for capturing faraway details and portraits. You must have seen this in films- Intimacy and emotions, facial expressions are captured in close-up shots.
And you can keep multiple lenses with you while moving around a concert. For example, Meghan works with a team to cover events and there are 2-3 guys who just work with prime lens and a few others have telephoto lens, wide-angle lens, etc.
If we consider a music concert, Meghan explains that in the first half- things are normal and stable like people are gearing up and the energy keeps growing. So, the artists are also a little more stable and you can click pictures with the 50mm prime lens. But towards the end of the show, things get to become a little wilder. And that's where the fisheye is more helpful. If you are covering an event single-handedly then keep your second lens ready with you. You might need it towards the end of the event.
Here are a few suggestions from our side-
Wide-Angle Lens (Focal Length: 16-35mm): Consider the Sony FE 16-35mm f/2.8 GM or the Canon RF 15-35mm f/2.8L IS USM.
Standard Lens (Focal Length: 24-70mm): A standard zoom lens is versatile and ideal for capturing events. Recommended options include the Tamron 28-75mm f/2.8 Di III RXD or the Canon RF 24-70mm f/2.8L IS USM.
Telephoto Lens (Focal Length: 70-200mm): The Sony FE 70-200mm f/2.8 GM OSS or the Canon RF 70-200mm f/2.8L IS USM would be excellent choices.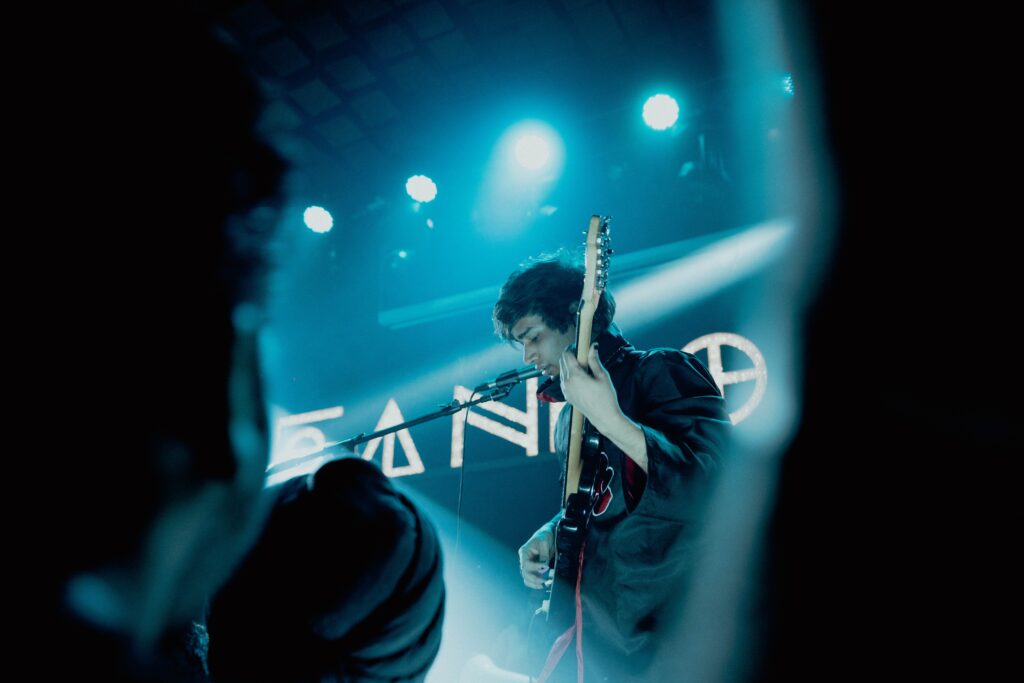 Courtesy- Meghan Katti
Prime Lens (Focal Length: 50mm or 85mm, wide aperture like f/1.8 or lower): The Sony FE 50mm f/1.8 or the Canon RF 85mm f/1.8 IS STM are good options.
3. Tripods and Monopods:
Stability is key to producing professional-looking videos. Meghan uses two cameras, and he has experienced situations where he took out the video camera mounted on the gimbal and then went to shoot with the second camera, came back and mounted the first camera again.
Tripods and monopods are also useful to have different shots like Dolly shots, Tracking shots, etc. in very different ways.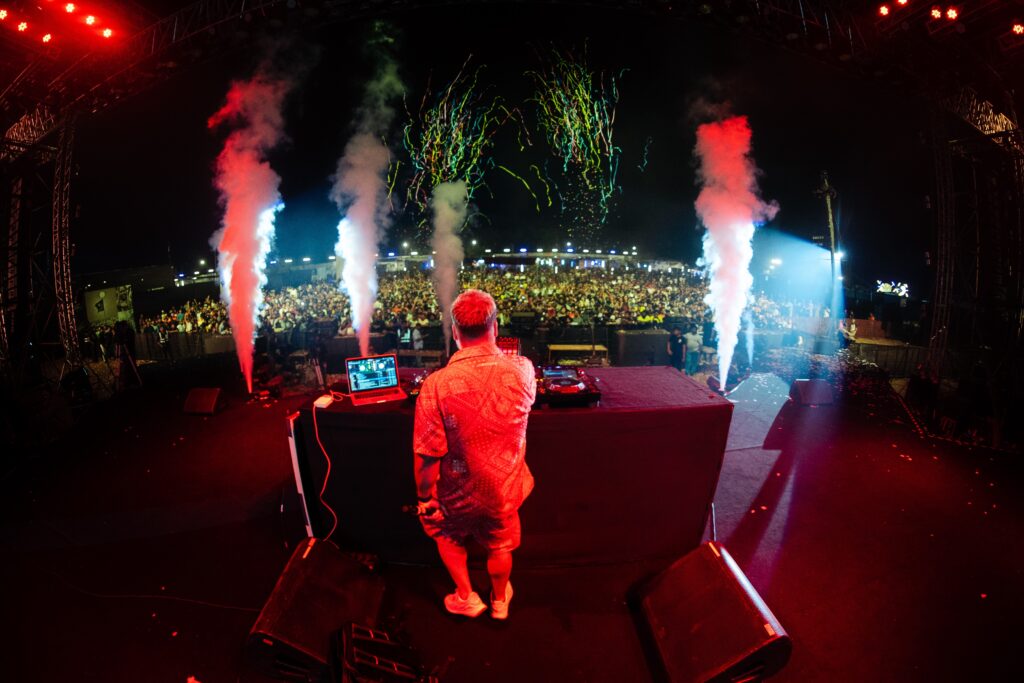 Courtesy- Meghan Katti
If you want to make the audience bigger and the artist smaller to show the energy of the people, do a low-angle tracking shot. And if you want to show the artist as bigger and the audience as smaller then put your gimbal or camera on a monopod and take a high-angle shot from near or behind the artist. You can invest in-
Sony VCT-VPR1; It is a versatile tripod that comes with a built-in remote control. The tripod's adjustable height goes up to 57.1 inches (145 cm), and it has a 3-way pan head for smooth movement.
Manfrotto 504HD Fluid Video Head with 546B Legs: A sturdy tripod with a fluid head for smooth and stable shots during the concert.
Manfrotto Xpro Monopod: A reliable monopod for on-the-go shots and flexibility during the event.
4. External Audio Equipment:
To ensure you capture pristine audio during the concert, invest in high-quality shotgun microphones. These directional mics will focus on the artist's voice and instruments while reducing background noise. Additionally, they will come in handy for backstage interviews or capturing clear audio from event attendees. As Meghan says, to capture a journey you need to know the artist's story in detail.
Rode NTG4+ Shotgun Microphone: A directional shotgun mic with a built-in rechargeable battery for capturing clear audio from the stage.
Zoom H6 Handy Recorder: A portable audio recorder that provides multiple channels for recording audio separately.
5. Lighting Equipment:
Events have become advanced in terms of lighting and sound checks but it is always better to carry a portable LED light, especially for backstage moments and dimly lit areas, if any. Consider buying a-
Aputure AL-M9 Amaran LED Mini Light: A compact and powerful LED video light for lighting up interviews or backstage scenes.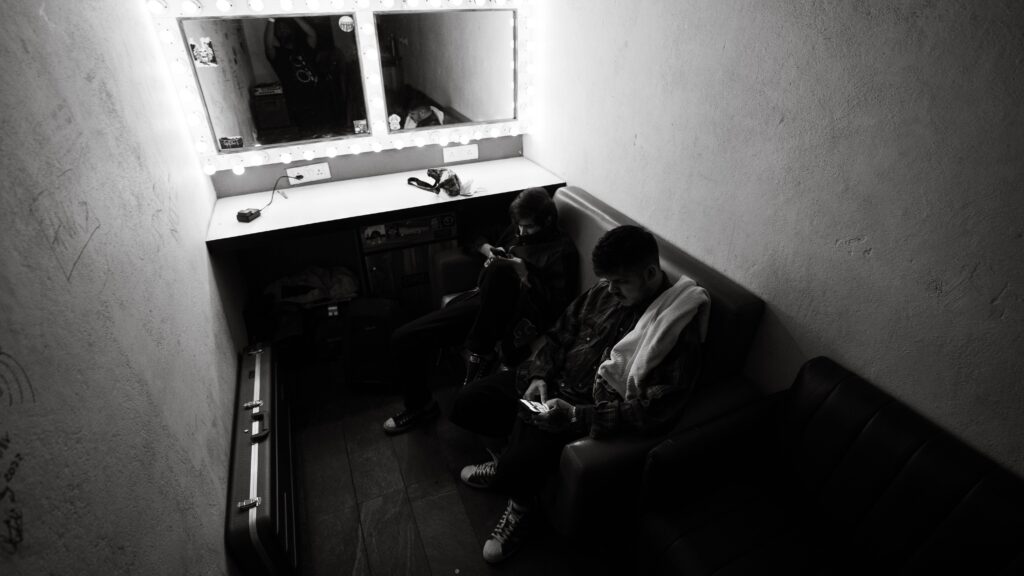 Courtesy- Meghan Katti
6. Camera Stabilizers:
An event can be full of energy and movement, making camera stabilizers essential for smooth footage. Motorized gimbals will allow you to achieve cinematic shots during the performance, while handheld stabilizers offer flexibility for on-the-go capturing. It's worth putting your money into-
DJI Ronin-S: A motorized gimbal stabilizer that allows for smooth and cinematic camera movements during the concert.
Zhiyun-Tech Crane 3S: A heavy-duty gimbal stabilizer capable of handling larger camera setups for creative shots.
7. Video Switcher (for multi-camera setup):
If you are planning to do a live telecast of an event with multiple-camera setup, a video switcher is an essential piece of equipment. A video switcher allows you to seamlessly switch between different camera feeds in real-time during the event or production. This enables you to capture and broadcast multiple angles, providing your audience with a dynamic and engaging viewing experience. You may consider purchasing-
Blackmagic Design ATEM Mini Pro ISO: A portable video switcher that allows for seamless live switching between multiple cameras.
8. Walkie-Talkies:
Walkie-talkies can be a valuable tool for staying connected and coordinating with your team during events, especially in situations where cell phone reception may be limited. You can put money into-
Motorola T600 H2O Talkabout Radio: It is a rugged and waterproof walkie-talkie designed for outdoor use. It has a range of up to 35 miles and offers NOAA weather alerts, making it suitable for various weather conditions.
Midland GXT1000VP4 GMRS Two-Way Radio: It is a feature-rich walkie-talkie with a range of up to 36 miles. It offers 50 channels, privacy codes, NOAA weather alerts, and a variety of useful features for clear communication.
9. Memory Cards:
According to Meghan, small things like USB cables, adapters, spare SD cards, dongles, and connectors are necessary things that we tend to forget easily. You should carry extra memory cards as a backup because nowadays everyone prefers to shoot 4k videos at 100 fps and the videos consume a lot of space! Meghan suggests getting a-
Sony CFexpress memory card: It offers ultra-fast read and write speeds and comes in various storage capacities, ranging from 128GB to 512GB and even higher.
Courtesy- Sony
10. Camera Bags and Sling Bags:
Events get really messy, and it becomes difficult to organize your gear. The best way is to carry a fanny bag for keeping lenses, program lists, phone, etc and a camera bag for other large equipment. Meghan finds it convenient if you are going out for a week-long event. It might be worthwhile to buy-
Peak Design Everyday Sling: It is a versatile and stylish fanny bag that can be worn across your chest or on your back. It offers customizable dividers and internal organization pockets, making it suitable for carrying camera gear, personal items, and even a small tablet or laptop.
Lowepro Format 110: It is a compact and lightweight shoulder bag designed to hold a small mirrorless or compact camera with an attached lens. It also has room for extra batteries, memory cards, and a small accessory.
Sony LCS-U11 Soft Carrying Case: It is a soft carrying case that fits most compact and mirrorless cameras. It has a padded interior and adjustable dividers for customized storage. The front pocket provides space for small accessories.
While these are some good suggestions from our side, it's not recommended to buy everything in the beginning. Meghan himself started with one camera- Sony Alpha a6300 and one gimbal. And he rented out the other things like lenses, audio equipment, etc.
You can read our detailed blog to rent gear at the lowest price online or from your nearest store in the megacities of India.
And when you are investing a huge amount of money in gear, make sure to increase the bill a little more but get your gear insured. Professional camera gear can be expensive to repair and during events, there's a higher risk of accidental damage or loss to your expensive camera equipment. Accidents can happen at any time, such as drops, spills, or even theft, especially in crowded events or public places. So it's better t choose an insurance policy. The equipment needed may vary based on the size of the team or if you are working solo.

Now you know what gear you need to kick off your journey in event videography in India. A very frequent question that must come to your mind is how to make the videos interesting and not get trapped in monotony. Meghan comments that every concert is going to be different and if you just show your experience at the event, it is going to have a different kind of picture every time and then the whole pursuit of getting a different shot every show is done. Don't forget to enjoy the events you attend.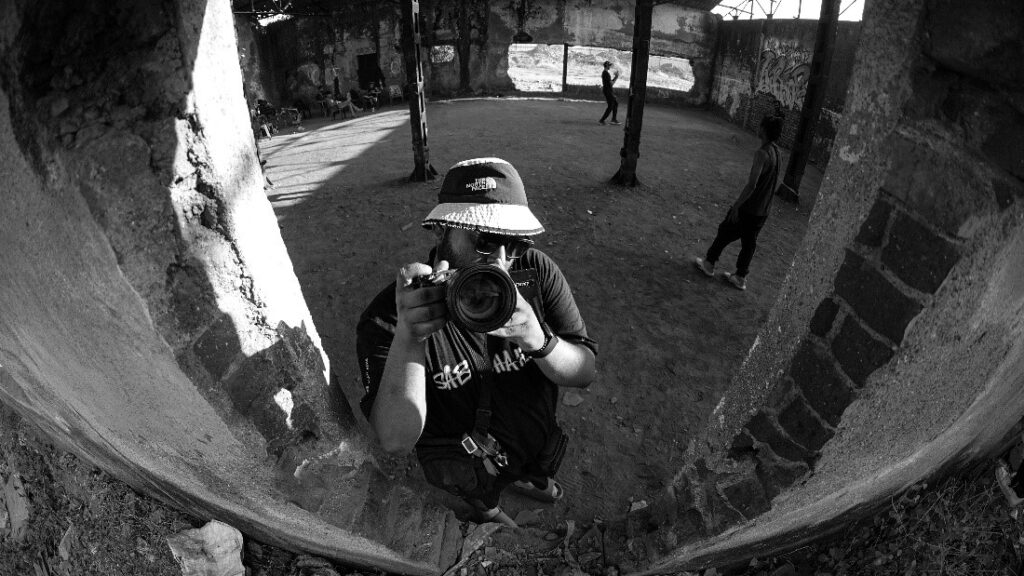 Courtesy- Meghan Katti
You can reach out to us at hello@indievisual.in for any further queries. And just for reference- This blog is not sponsored by Sony. Meghan and the writer have just suggested the best affordable gear available in India.