Are you an aspiring vlogger or content creator in India with a limited budget? Don't worry, we've got you covered! Today, we're diving into the exciting world of budget vlogging gear, sharing tips and tricks to help you create captivating content without breaking the bank. From affordable cameras to pocket-friendly audio equipment, we'll show you how to unleash your creativity and make magic happen on a budget. So, get ready to turn your passion into amazing content without emptying your wallet!
Camera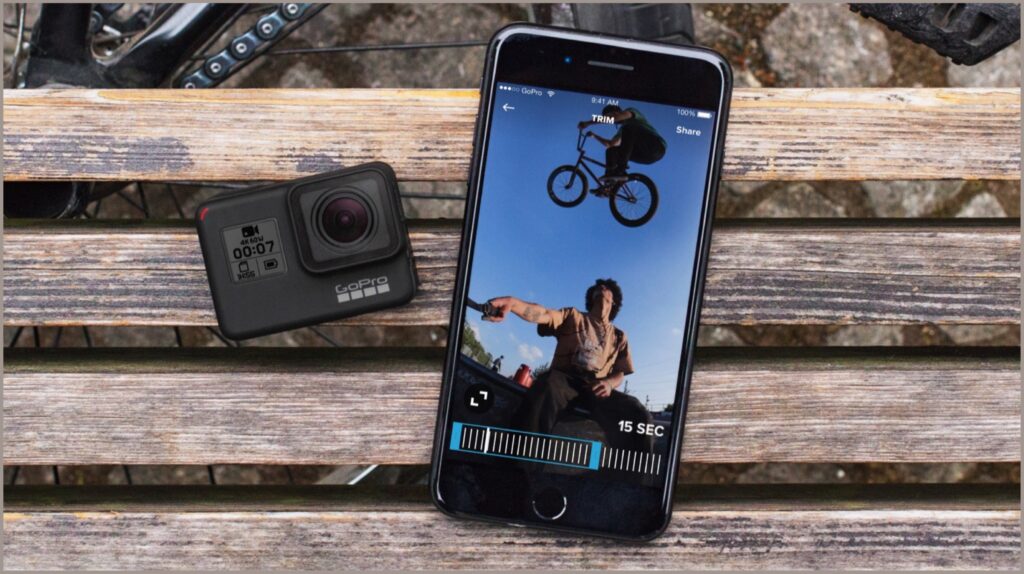 source – igyaan.in
When it comes to capturing stunning vlogs, the camera you choose can make all the difference. Fortunately, the market is brimming with an array of fantastic options that won't leave your wallet gasping for air. While dedicated vlogging cameras offer an extensive range of features, let's not underestimate the power of smartphones. Yes, you heard it right—those little rectangular wonders we carry around in our pockets can be fantastic vlogging companions too!

If you're eyeing a smartphone for vlogging, look for one that boasts Optical Image Stabilization (OIS) or Electronic Image Stabilization (EIS). This nifty feature keeps your footage steady and smooth, ensuring your viewers won't experience motion sickness. Moreover, a rear camera capable of shooting in 4K is a must-have for that ultra-crisp visual appeal. But hold on, there's more! One of the most sought-after features in vlogging is an ultrawide lens, and it's easy to see why. With its wider field of view, you can capture breath-taking landscapes, impressive backgrounds, and more of your surroundings. Additionally, make sure the device has a good in-built video recording capability to ensure high-quality footage for your vlogs.

Now, while the iPhone often steals the spotlight for its exceptional video capabilities, there are some budget-friendly Google Pixel phones available in India that can hold their own. One notable option is Pixel 6a. With OIS and an ultrawide lens in its arsenal, falling under the bracket of 30k, it packs a punch without breaking the bank. Pixel 6a also has the special speech enhancement feature on both its rear and front cameras which captures your voice perfectly no matter where you are. However, there is no 4K recording on the front camera. But the rear cameras should do the job for you.

On the Apple front, the older iPhone SE 2020 or iPhone 11 offer superior stability and remarkable video quality at a lower price, thanks to Apple's impeccable engineering. Both cameras can easily record in 4k from their rear cameras, with iPhone 11 having the capability of shooting 4K from the front camera too. Also, keep in mind that the iPhone SE lacks an ultrawide angle lens, but it is much cheaper than the 11, so it ultimately depends on your personal preferences and how much you're willing to stretch your budget. Such older iPhones may not be easily available on Amazon or Flipkart and their prices might vary, so you can explore refurbished options from trusted Indian websites like cashify.in which offer significant savings without compromising on quality. So, whether you opt for an iPhone or Android, remember that capturing awe-inspiring vlogs is well within your reach, even on a budget!

Of course, we understand that not everyone may be inclined to use a smartphone for their vlogging endeavors. If you prefer a dedicated vlogging camera that's compact, rugged, and built for action, the older but budget friendly GoPro HERO7 priced just under 30k can be an excellent budget-friendly choice. The HERO7 is renowned for its versatility and durability, making it perfect for capturing your adventures on the go. With its compact size, you can easily mount it on a selfie stick or attach it to your gear for captivating point-of-view shots. The GoPro HERO7 also excels in delivering smooth footage, thanks to its built-in electronic stabilization. However, it's essential to note that while the HERO7 offers remarkable features, it does have some limitations compared to smartphones like the iPhone. For instance, its dynamic range, low-light video performance, and colour reproduction may not match the superior capabilities of high-end smartphones. So, if these aspects hold significant importance in your vlogging pursuits, smartphones like the iPhone may have the upper hand. Nonetheless, if you're seeking a durable, action-oriented camera at an affordable price, the GoPro HERO7 can be a reliable companion to capture your thrilling vlogs with ease.
Accessories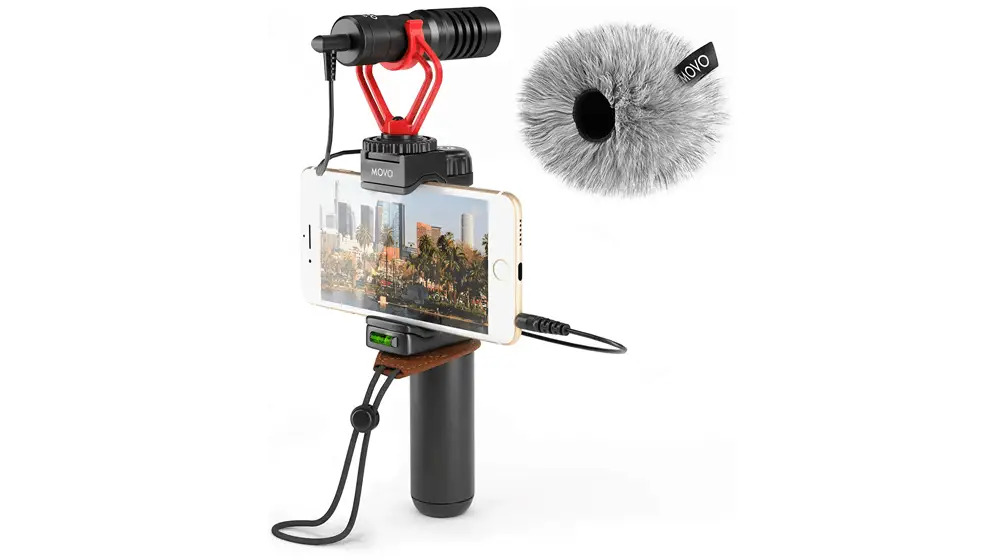 Source – movophoto.com
Microphone
When it comes to vlogging, capturing clear and crisp audio is just as important as nailing the visuals. While many cameras and smartphones come equipped with internal microphones, they often fall short in delivering professional-grade audio quality. That's where external microphones come to the rescue! These handy accessories enhance the clarity and depth of your voice, ensuring your audience can hear every word you say. In India, one popular budget option for vloggers in India is the Boya MM1 cardioid microphone which is priced under 2k. This lightweight cardioid microphone is designed to capture sound from the front while minimizing background noise. The cardioid pattern helps in focusing on the sound source, providing excellent sound isolation and reducing unwanted distractions. With its plug-and-play simplicity, the Boya MM1 is compatible with various cameras, smartphones, and audio recorders, making it a versatile choice for vloggers on a budget.
Tripod
When it comes to vlogging, achieving steady and stabilized shots is key to maintaining a professional and polished look. That's where mini tripods come into play as essential accessories. These compact and portable tripods offer a stable base for your camera or smartphone, allowing you to capture smooth footage even in challenging environments.

Two notable options in the budget range for smartphones are the Syvo S-11 Tripod and the ULANZI MT-33 Tripod. Both tripods provide sturdiness and extreme flexibility at an affordable price of under 2k. They offer a stable base for your camera or smartphone, allowing you to record smooth footage even in challenging environments. They can be fixed on any kind of surface and are compact and portable, making them convenient to carry in your vlogging kit.

When it comes to vlogging with a GoPro HERO7 or similar action cameras, having a wallet-friendly mini tripod like the Ulanzi MT-09 can be a game-changer. Priced under 2k, this mini tripod is specifically designed to provide stable positioning and ensure your footage remains super smooth, even during action-packed adventures. Equipped with a rubber pad and an anti-slip design, the Ulanzi MT-09 offers a secure grip, preventing any unwanted movement or wobbling. This level of stability is crucial for capturing clear and shake-free footage, allowing you to showcase your thrilling adventures with confidence. Whether you're capturing fast-paced activities, recording time-lapses, or simply need a steady base for your GoPro, the Ulanzi MT-09 mini tripod is a fantastic wallet-friendly option that guarantees smooth and professional-looking footage.

Portable lights
In the world of vlogging, lighting plays a crucial role in enhancing the overall visual quality of your videos. While natural light is often the preferred choice, it's not always readily available or consistent. That's where portable lights come in, offering a versatile solution to illuminate your vlogs and ensure you always look your best on camera.

One budget-friendly option for vloggers is the ULANZI VL49 RGB light. Priced just under 2k, this compact pocket-sized light is designed for on-the-go vlogging. Despite its small size, it packs a punch, delivering a decent amount of light to brighten up your shots. Whether you're filming indoors, in low-light conditions, or during night-time adventures, the ULANZI VL49 RGB light ensures you have the right amount of illumination.

One of the standout features of this portable light is its versatility. It can be easily carried by one hand and fits perfectly in your camera bag, making it a must-have accessory for any vlogger. With its standard 1/4 screw, it is compatible with tripods, allowing you to mount it securely for hands-free lighting.

The ULANZI VL49 RGB light also offers the advantage of adjustable color temperature and RGB options, allowing you to experiment with various lighting effects and create unique atmospheres in your vlogs. This versatility adds a creative touch to your videos, making them visually appealing and engaging for your audience.
Editing
Source – Flixier.com
Editing plays a vital role in shaping the final look and feel of your vlogs. Fortunately, smartphones have evolved to become powerful editing platforms, allowing you to edit your videos on the go. With a plethora of editing apps available on the Android and iOS stores, you can transform your raw footage into polished vlogs with just a few taps. These apps offer a range of features, including trimming, transitions, filters, and even advanced effects. The cost of these apps varies, with options available for both free and premium versions, catering to different editing needs and budgets. Also, if you have access to a laptop or desktop computer, you can explore a multitude of desktop powerhouse editors that offer advanced capabilities. Whether you're a beginner or a seasoned pro, there's an editing software that fits your needs and budget. To help you navigate through the options available, we recommend checking out our blog post on the best video editors out there.

Whether you're just starting out or looking to elevate your vlogging game, remember that your passion and creativity are what truly shine through. The gear you choose is simply a tool to amplify your storytelling abilities. So, don't let budget constraints hold you back from pursuing your vlogging dreams. With the right choices and a sprinkle of ingenuity, you can capture amazing content that resonates with your audience.