The relationship between music and photography is a fascinating mix of creativity, emotion, and inspiration. It is a realm where the rhythm of a melody finds its visual counterpart, where the emotions evoked by a musical composition are distilled into a single photograph. Exploring the intricate connection between music and photography not only enhances our understanding of these art forms individually but also provides a profound insight into the shared language of human expression.  
Visualizing Sound: The Power of Music in Photography
Music and photography, though distinct in their mediums, share striking parallels as forms of artistic expression. Both have the extraordinary ability to transcend language barriers and communicate directly with our emotions and senses.
Photography, with its visual language, provides a unique opportunity to translate the intangible world of music into tangible images. Just as music employs melodies, harmonies, and rhythms to convey emotions and narratives, photography utilizes composition, lighting, and perspective to create visual stories. Both art forms tap into the vast realm of human emotion, using their respective languages to communicate and connect with audiences on a deeply visceral level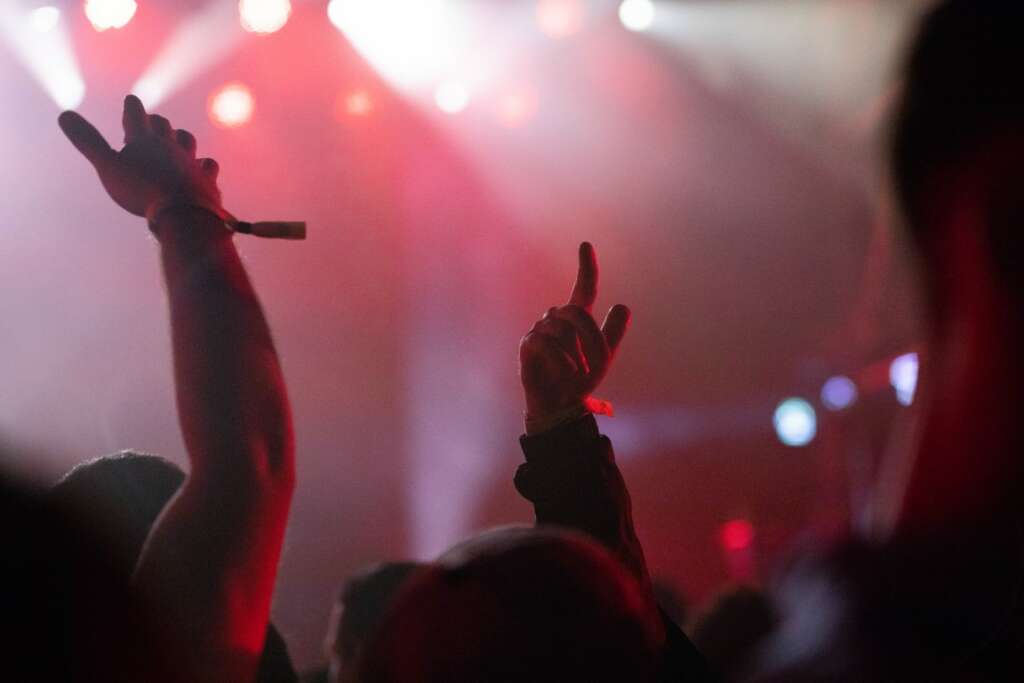 Numerous photographers have masterfully merged the realms of music and photography, capturing the spirit and energy of musicians and their craft. One such luminary is Anton Corbijn, a renowned photographer who has collaborated extensively with musicians like U2, Depeche Mode, and Nirvana. Corbijn's striking black-and-white portraits and music videos have become iconic visual representations of these artists, capturing their essence and immersing viewers in the emotions their music conveys.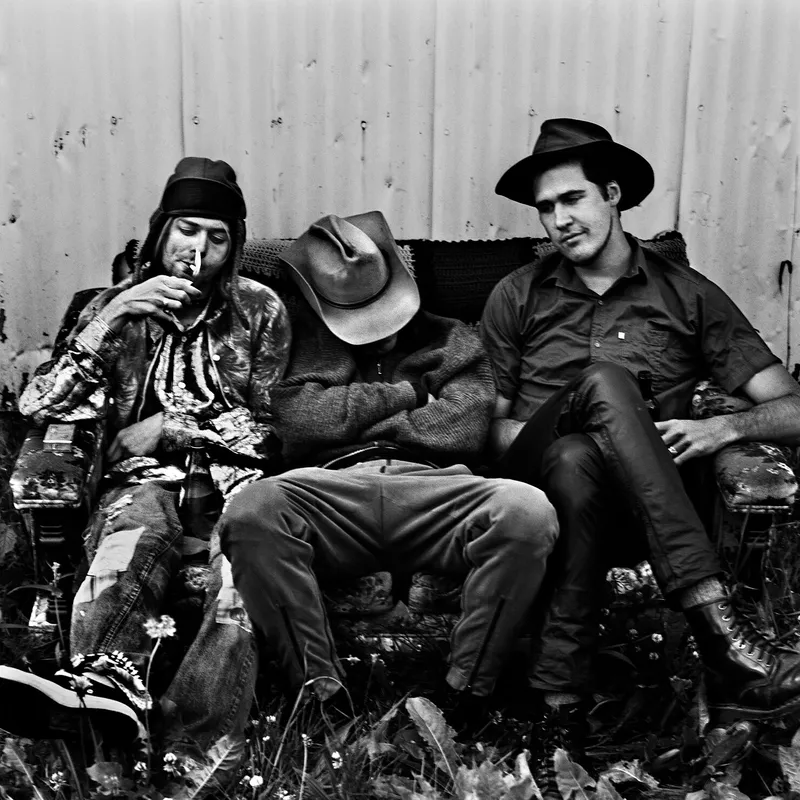 Nirvana by Anton Corbijn
Another notable photographer who has seamlessly blended music and photography is Linda McCartney. Beyond being recognized as the beloved wife of Paul McCartney, Linda was a talented photographer who documented the vibrant music scene of the 1960s and 1970s. Her candid and intimate photographs of musicians like The Beatles, Jimi Hendrix, and The Rolling Stones not only offer a glimpse into the lives of these iconic figures but also immortalize the era's cultural significance.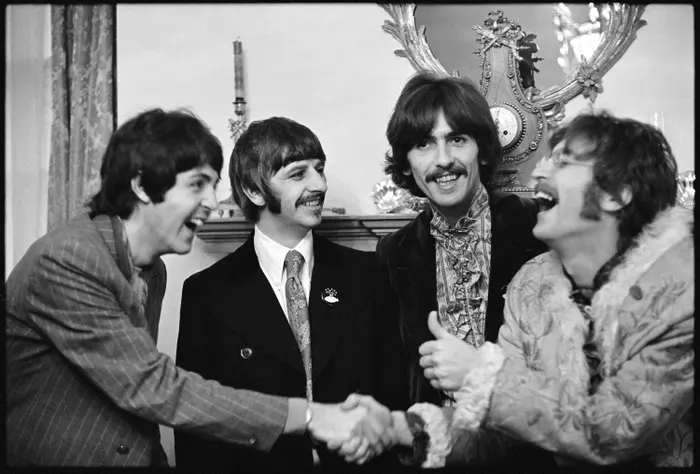 The Beatles by Linda McCartney
Additionally, the legendary album covers created by designers such as Storm Thorgerson (notably for Pink Floyd) and Robert Mapplethorpe (for Patti Smith's "Horses") exemplify how photography has played a pivotal role in shaping the visual identity of musicians and their music. These iconic images have become inseparable from the music itself, further emphasizing the profound relationship between the two art forms.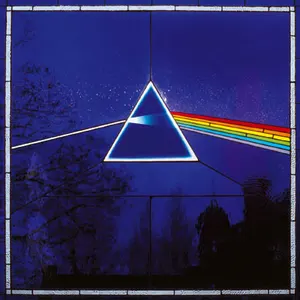 Storm Thorgerson for Pink Floyd, Courtesy – The Guardian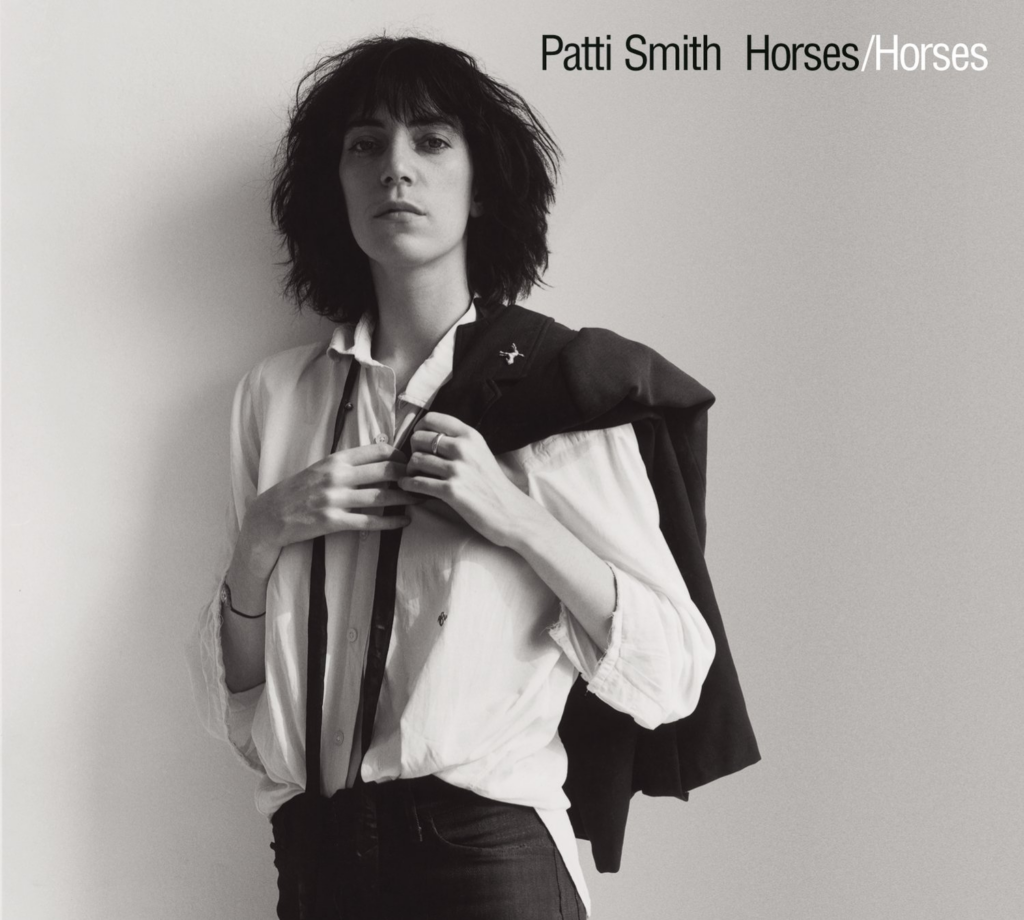 Album Cover of Horses by Robert Mapplethorpe
Through their compositions, lighting, and the careful capture of fleeting moments, photographers have the remarkable ability to freeze the emotions and atmosphere evoked by music.
Harmonizing the Senses: The Role of Music in Influencing Photography
1. The Influence of Music on the Creative Process:
Music can transport us to different emotional states and stimulate our imagination. For photographers, incorporating music into their creative process can catalyze inspiration, influencing their choices in composition, subject matter, and visual storytelling. Whether it's a soothing melody that evokes tranquility or an energetic beat that sparks excitement, music can infuse photographers with a particular mood or atmosphere that is then translated into their work.
2. Exploring the Mood of Music Genres:
Different genres of music have distinctive qualities that evoke specific moods and emotions. For instance, classical compositions might inspire photographers to create images with a sense of elegance, grace, and timelessness. On the other hand, vibrant and rhythmic genres like jazz or salsa can encourage photographers to capture movement, energy, and spontaneity. By immersing themselves in the varied sounds of different musical genres, photographers can explore new visual narratives and expand their creative horizons.
3. Photographers Inspired by Music:
Numerous photographers have found inspiration in music, drawing from its melodies, lyrics, and cultural significance to create compelling visual narratives. One such photographer is Mick Rock, known as "The Man Who Shot the Seventies." Rock's iconic images of musicians like David Bowie, Queen, and Lou Reed not only capture their physical presence but also convey the essence of their music and the era's countercultural spirit.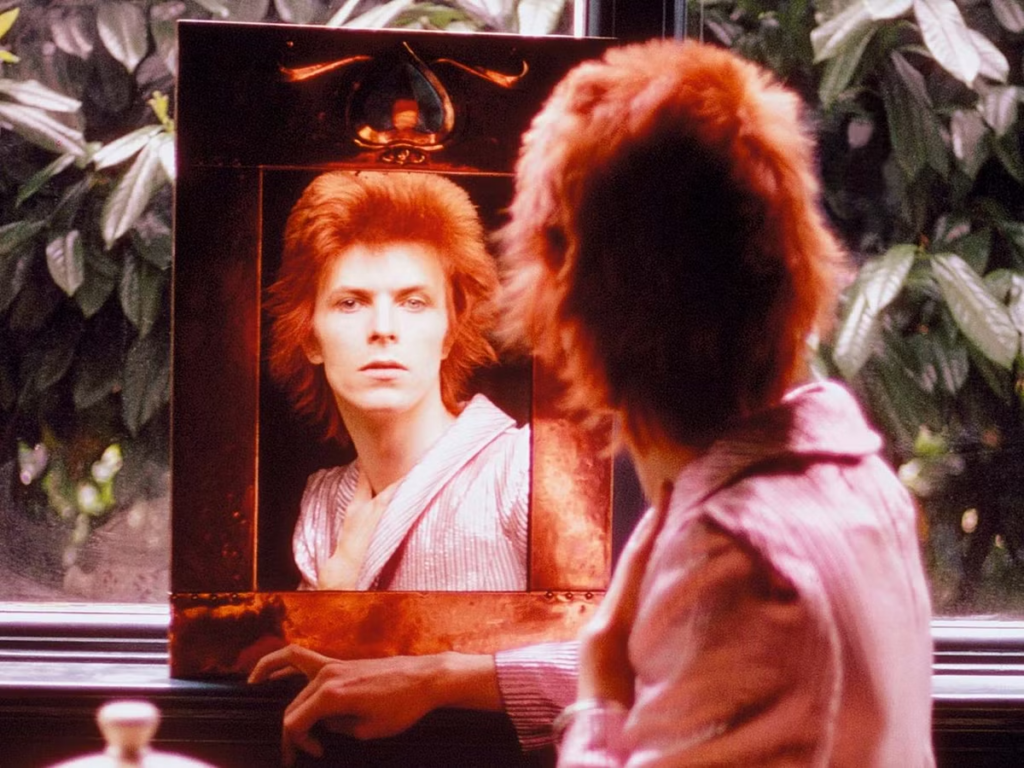 David Bowie by Mick Rock, Courtesy – The Independent
Another notable example is the work of Ryan McGinley, whose vibrant and dynamic photographs often depict youthful energy and freedom. McGinley has stated that music plays an integral role in his creative process, inspiring him to capture the raw emotions and carefree spirit of his subjects.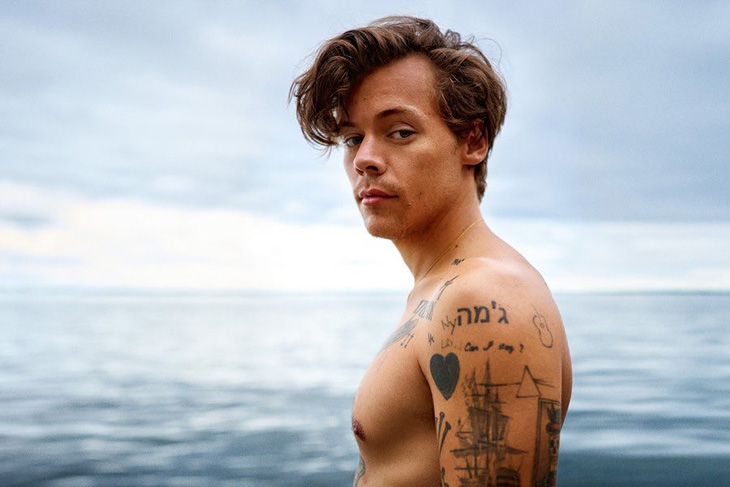 Harry Styles for Rolling Stone by Ryan McGinley
Furthermore, the photography of Danny Clinch showcases a deep connection to the music industry. Clinch has captured evocative portraits of musicians such as Bruce Springsteen, Tupac Shakur, and Johnny Cash, conveying their personalities and musical styles through his lens. His ability to immerse himself in the world of music enables him to capture intimate moments that resonate with the essence of each artist.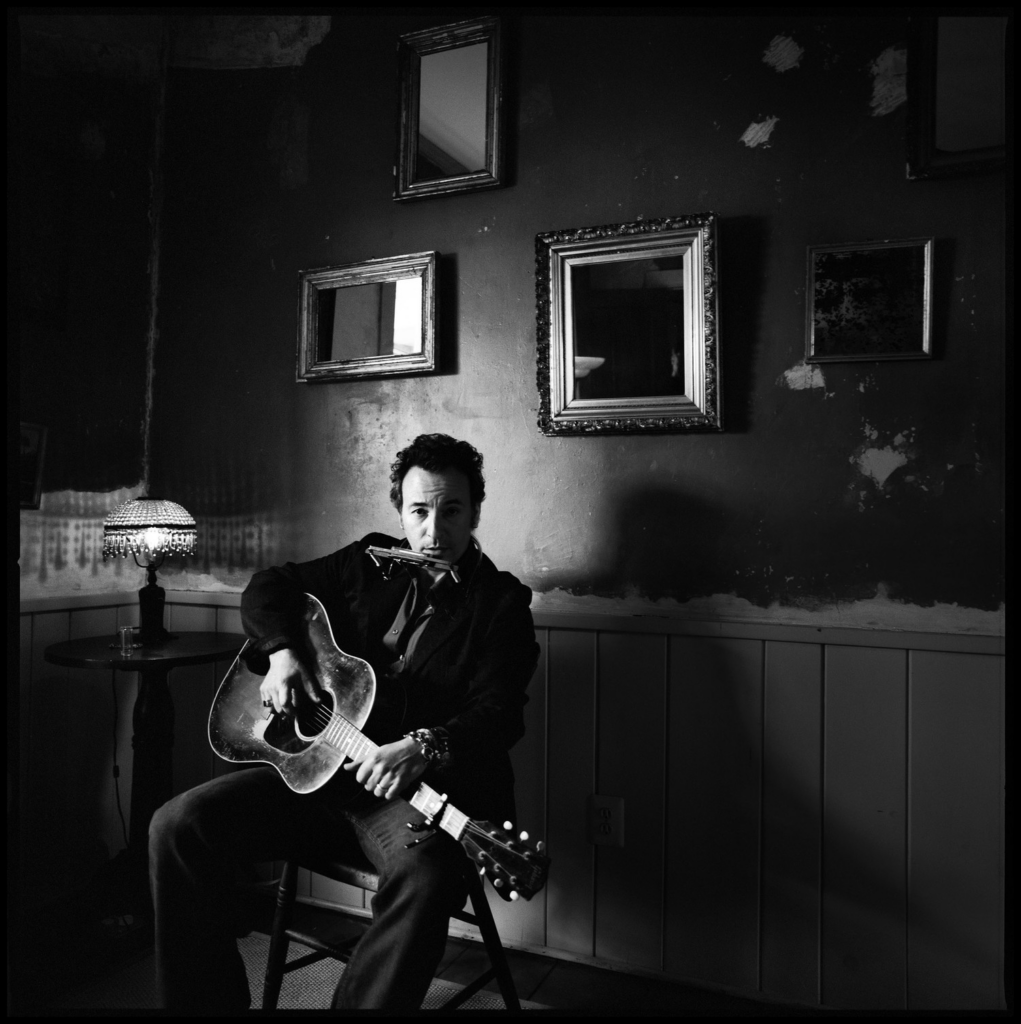 Bruce Springsteen photographed by Danny Clinch
These photographers, among many others, demonstrate how music can serve as a wellspring of inspiration, guiding their artistic choices and infusing their images with the soul of the music they admire.
Rhythm and Composition: Translating Musical Elements into Visual Language
1. Rhythm in Photography:
Rhythm is a fundamental element in both music and photography. In music, rhythm sets the pace and tempo, creating patterns that guide the listener's experience. Similarly, in photography, rhythm refers to the repetition and arrangement of visual elements within an image. Photographers can utilize rhythm to establish a sense of movement and flow, capturing the viewer's attention and leading their eye through the frame. This can be achieved by consciously incorporating repeated shapes, lines, or patterns within the composition, creating a visual beat that echoes the rhythm found in music.
2. Melody in Photography:
Melody, the sequence of notes that form a memorable and expressive musical line, can be translated into photography through the creation of a focal point or a visual narrative. Like a captivating melody in music, a strong subject or point of interest within a photograph can draw the viewer in and create a sense of emotional resonance. Photographers can select a dominant element or a key moment within their frame that becomes the "melody" of the image, evoking a strong emotional response and serving as the anchor around which other visual elements harmonize.
3. Harmony in Photography:
Harmony, the combination of different musical notes that create a pleasing and balanced sound, finds its visual counterpart in the balance and coherence of elements within a photograph. Photographers can seek visual harmony by considering the relationships between colors, shapes, and textures within their composition. By understanding color theory, using complementary or analogous color schemes, and creating a balance between contrasting elements, photographers can evoke a sense of visual harmony that resonates with the harmonies found in music.
Practical Tips and Techniques:
Pay attention to the rhythm of your subject or scene. Look for repeated shapes, lines, or patterns that can create a sense of movement and flow within the frame.
Experiment with different perspectives and angles to enhance the visual rhythm and create dynamic compositions.
Identify a focal point or key element within your frame to establish a strong "melody" that draws the viewer's attention and creates an emotional connection.
Explore the concept of visual storytelling by capturing a series of images that build upon one another, evoking the narrative structure found in music.
Experiment with color harmonies and contrasts to create a sense of visual balance and coherence within your compositions.
Embrace the concept of "visual tempo" by considering the pace and rhythm of your photographs, whether they be fast and energetic or slow and contemplative.
Concert Photography: Capturing the Essence of Live Music
Live music performances provide an electrifying atmosphere where the energy of musicians and the audience collides. In this section, we will explore the unique challenges and opportunities presented by concert photography.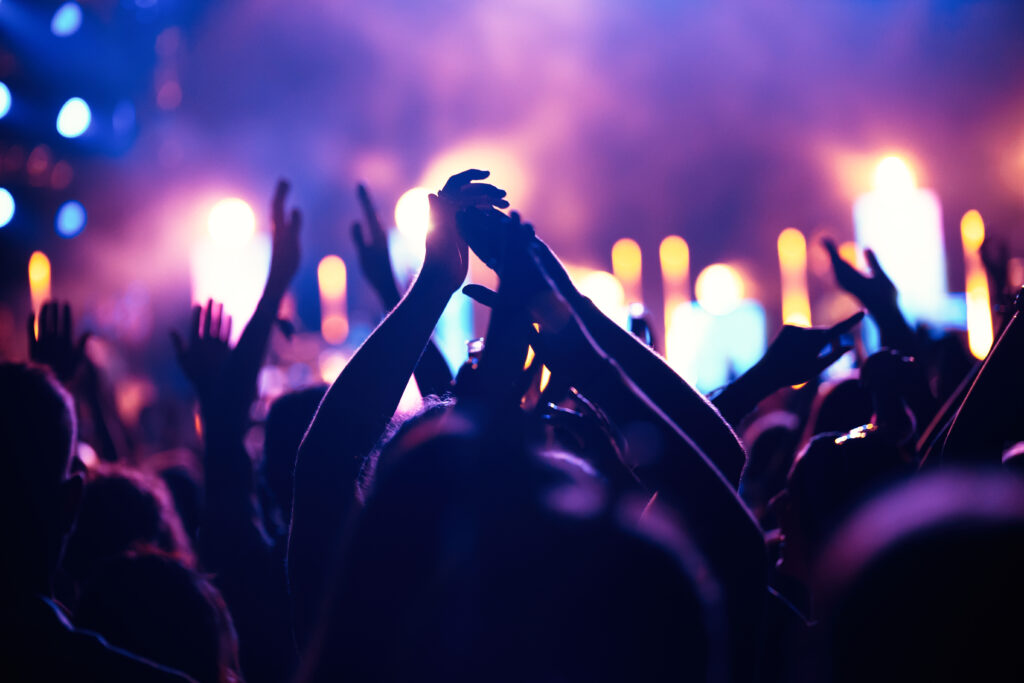 1. The Challenges of Concert Photography:
Concert photography is a thrilling yet demanding genre that requires photographers to adapt to challenging conditions. The fast-paced nature of live performances, constantly changing lighting, and restricted access can pose significant challenges. However, overcoming these obstacles allows photographers to capture unique moments and convey the energy and atmosphere of the live music experience.
2. Timing and Anticipation:
Timing is crucial in concert photography, as capturing the decisive moment can make all the difference in capturing the essence of a performance. Anticipating the movements and expressions of musicians, as well as the interaction between the artists and the audience, allows photographers to freeze fleeting moments that convey the passion and intensity of the performance. Being familiar with the music and having a sense of the artist's stage presence can help anticipate these moments and ensure the photographer is ready to capture them.
3. Conveying the Energy:
The primary goal of concert photography is to convey the energy and atmosphere of the live performance. Utilizing techniques such as capturing motion blur, utilizing dynamic angles, and experimenting with different shutter speeds can add a sense of movement and liveliness to the images. Including elements of the audience, such as hands raised, people dancing, or crowd reactions, can also help capture the collective experience and connection between musicians and their fans.
Practical Tips for Concert Photographers:
Familiarize yourself with the music and the artist's stage presence to anticipate key moments.
Use fast lenses with wide apertures to capture images in low-light conditions without sacrificing image quality.
Experiment with different shutter speeds to convey movement or freeze action, depending on the desired effect.
Be aware of your surroundings and respect the boundaries set by the venue and artists.
Take advantage of the stage lighting and the interplay between light and shadow to create dramatic compositions.
Capture the emotions and reactions of the audience to enhance the storytelling aspect of your images.
Continuously review and adjust your camera settings to adapt to changing lighting conditions throughout the performance.
Album Art and Visual Branding: Uniting Music and Photography
Album art has long been an integral part of the music industry, serving as a visual gateway into the sonic world created by musicians. In this section, we will delve into the significant role of album art in the music industry and its profound impact on visual branding. We will explore iconic album covers that have become synonymous with particular artists and genres, and we will analyze the relationship between album art and music, highlighting the crucial role photography plays in creating a visual identity for musicians.
1. The Importance of Album Art:
Album art is a powerful tool for musicians to visually communicate their artistic vision and capture the essence of their music. It serves as a visual representation of the sonic experience awaiting listeners, establishing a visual narrative that complements and enhances the music itself. Album art can pique curiosity, create anticipation, and establish a memorable visual identity for musicians and their albums.
2. Iconic Album Covers:
Over the years, numerous album covers have achieved iconic status, becoming inseparable from the music they represent. These covers serve as visual symbols that instantly evoke specific artists, genres, or eras. Examples include The Beatles' "Abbey Road," Pink Floyd's "The Dark Side of the Moon," and Nirvana's "Nevermind." Each of these covers encapsulates the spirit of the respective albums and has become deeply ingrained in popular culture.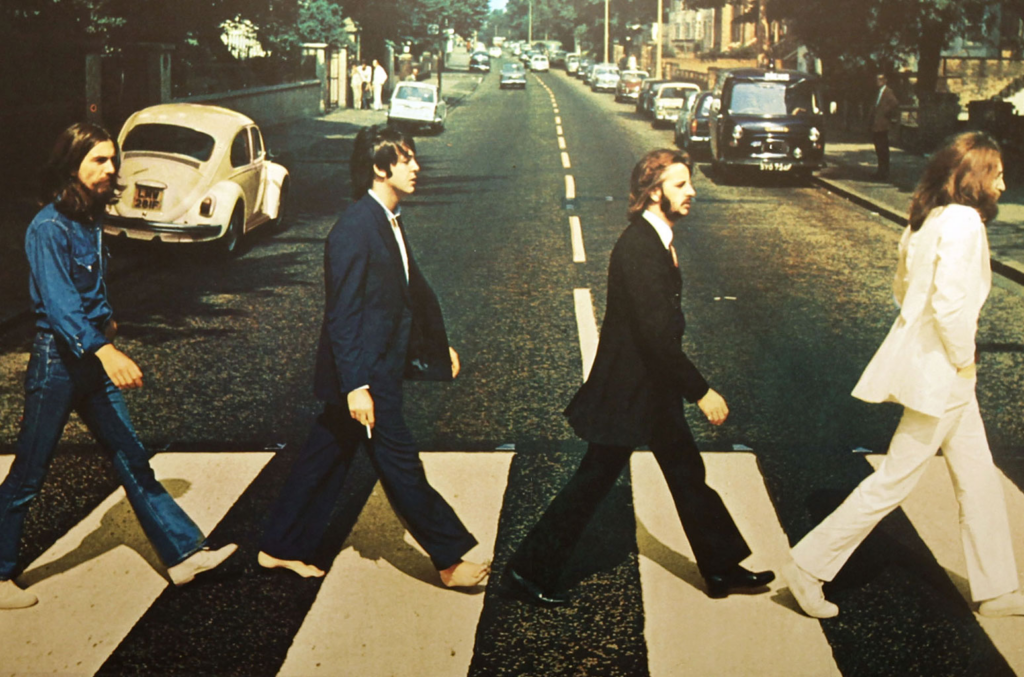 Abbey Road by The Beatles album cover
3. The Relationship Between Album Art and Music:
Album art and music share a symbiotic relationship, with each influencing and enhancing the other. Just as music can evoke emotions and convey narratives, album art has the power to visually express the themes, moods, and messages within the music. It serves as a visual storytelling companion to the sonic journey, creating a multi-sensory experience for listeners. Photography plays a crucial role in album art, capturing the essence of musicians, translating their music into visual form, and establishing a visual identity that resonates with their audience.
4. Creating a Visual Identity for Musicians:
Photography plays a central role in creating a visual identity for musicians and their brands. Through carefully crafted images, photographers can capture the essence of musicians' personalities, musical style, and overall aesthetics. These images, whether used on album covers, promotional materials, or social media, contribute to the visual storytelling surrounding the musician and help establish a recognizable brand. The choice of locations, lighting, and composition in these photographs can further reinforce the desired image and evoke specific emotions or atmospheres.
In the fast-evolving digital landscape, where music is increasingly consumed through streaming platforms, the importance of album art and visual branding remains as vital as ever. It is an opportunity for musicians to engage with their audience visually, create a lasting impression, and foster a deeper connection with their music.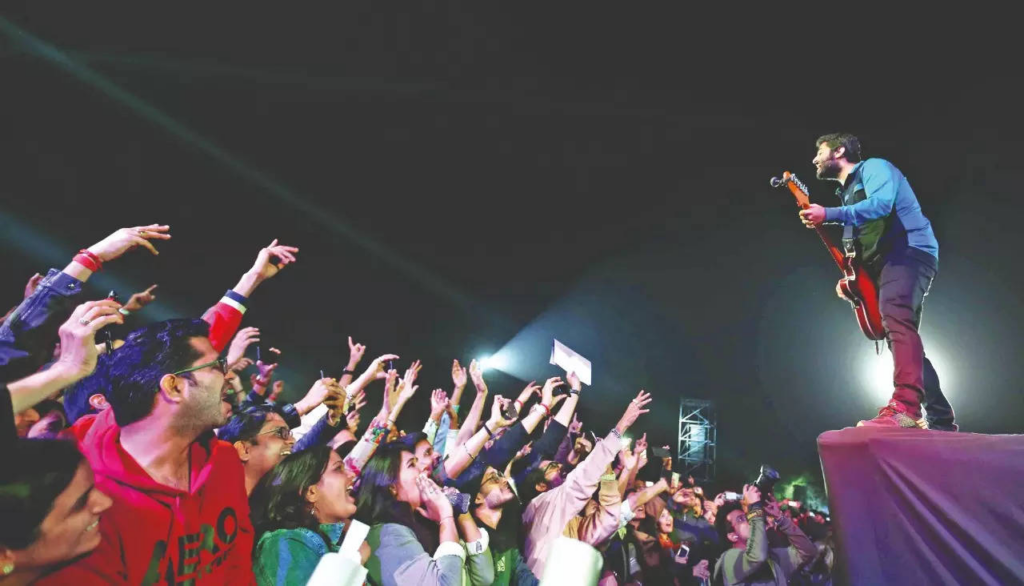 Arijit Singh in his concert, Courtesy – Times of India
Seek out the interplay between rhythm, melody, and harmony, and let them shape your visual compositions, infusing your images with movement, flow, and visual resonance. Let the melodies guide your lens, and the visual narratives unfold with the rhythm of your heart. Discover the transformative power that lies in the union of these art forms and unleash the boundless creativity that resides within you.