Trusted by Well-Known Companies – Across India.
Looking for a Great Travel Video Production Company?
Our Travel Video Production Services Help –
Connect With Relevant Audience
Promote tourism initiatives to a global audience. Show your audience they can have fun in a responsible manner!
Promote Eco-Tourism
Showcase pristine natural environments, wildlife encounters, and sustainable practices. Attract your audience and inspire eco-conscious travel.
Increase Bookings
Bring travel & tourism projects to life with our videos! Make travelling sustainable and environmentally conscious with us! Deliver an experience instead of just an ad.
Why Choose IndieVisual for Tourism
Video Production?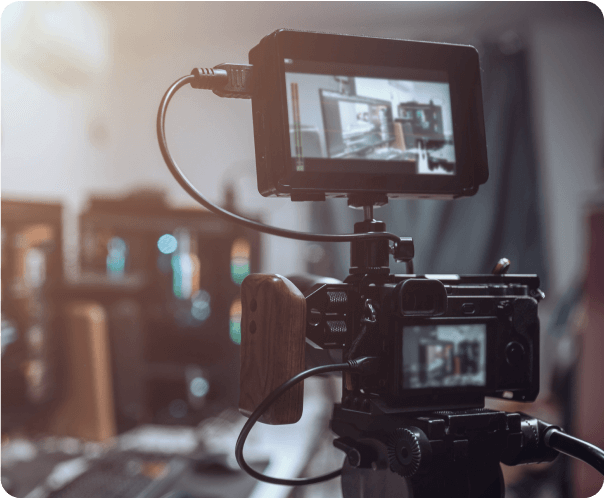 Travel-Tailored Expertise
We get how the travel and tourism industry works. It's exactly why we are great at capturing the experience that you provide, the projects you want to highlight.
Cost-Effective Solutions
Great quality and fantastic storytelling need not be expensive. We get the job done for much, much less while exceeding all expectations.
Global Reach, Local Feel
We understand the nuances of each market and create videos that resonate with diverse audiences and drive bookings, while promoting sustainable practices.
Strategic Visual Impact
Our videos deliver tangible results. Designed to boost your visibility and drive direct bookings, we tailor your content for actual real-life difference.
What Our Clients Say About Us
"We needed to produce two videos with a very short turnaround time. We approached several agencies, and almost all of them said that it was impossible to produce the videos within the timeline.IndieVisual offered to not only meet our deadline but also at very competitive prices. The process was extremely smooth and the team accommodated all the changes we needed. We were given the two films right on time. I would highly recommend IndieVisual for the excellent service."
"IndieVisual executed our entire social media campaign – 10 videos – in a month. They identified our key talking points, wrote the scripts, briefed the actors, and executed everything. It's been a fantastic experience – and a huge weight off my mind!"
"My startup needed to make a video for our corporate profile – so it had to be well-shot, well-produced, and hit the right notes. And we had very little time to do it.IndieVisual's team came in and planned all the details very well, and the final video was exactly what we were looking for – and in a very quick turn-around time, too. Very happy to have found the IndieVisual team in time!"
FAQs
Creating impactful tourism video content involves highlighting unique experiences, fantastic visuals, and authentic storytelling, tailored to resonate with diverse audiences and showcase your destination's essence. Opt for our travel video production services today!
Yes! Tourism video production, especially videos for hotels, can give your business a competitive edge by showcasing your distinctive offerings, creating an emotional connection, and providing a virtual experience that sets you apart in the crowded tourism landscape.
Yes, IndieVisual specializes in creating unique and captivating concepts for your tourism promotional video. Our team combines creativity and industry expertise to craft a concept that perfectly captures the essence of your destination, ensuring your video stands out and resonates with your target audience.
A tourism company can leverage a travel video by using it on its website, social media, and email campaigns. With such travel video production, one can also showcase the hotel's offerings, ambiance, and experiences, enticing travelers and boosting bookings effectively.
Yes, we offer expert assistance in scriptwriting and storyboarding for your tourism promotional video. By collaborating closely, we ensure that your hotel's unique elements are highlighted, engaging viewers and compelling them to explore the experiences you offer through captivating video content.
We provide multilingual options and subtitles in our tourism videos to effectively reach and engage your international audience. This ensures that your hotel's offerings are accessible and appealing to travelers from various regions, enhancing the video's impact and expanding your global reach.
Our travel video production services are tailored to help government tourism boards and tour operators stand out in the market. Through expertly crafted videos, we can effectively showcase destinations, attractions, and curated experiences, elevating your offerings and drawing in travelers.