As a video-sharing platform, YouTube Has gained incredible momentum – anyone who wants to Make YouTube Videos Quickly in 2022 can't ignore the importance of creating good content that has great flow and narration and either solves a problem, or teaches something useful to the viewer.
Initially, YouTubers could simply record the videos from their computer webcams and still build a loyal community of regular viewers just based on their content. But in 2022, the platform is flooded with high-quality content.
YouTube is now a more crowded space, with YouTubers making professional-looking videos with up to 4k resolution and great use of elements such as music, graphics, advanced editing and so much more. But you might not want to splurge on high-end equipment, especially when you're just starting out.
1. Define your budget – and be Resourceful
Budget is a variable subject; it completely depends on how much you're ready to Invest in your YouTube videos.
Suppose you have a gaming channel for which you need a webcam. Webcams come in a wide range of prices – ranging from 500 bucks all the way up to some fancy ones for 5000+. Maybe you're more into cinematic videos, in which case you'll have to prioritise a good DSLR or mirrorless rather than a simple point-and-shoot, and save money elsewhere.
You can also decide NOT to spend on some elements that you can get for free. Example: Editing software such as Da Vinci Resolve. Canva is a great place for web graphics. IndieVisual (that's us!) is an affordable Royalty – free stock footage website with a huge range of stock videos. YouTube itself has an endless library of copyright-free music to choose from. Make YouTube Videos Quickly
2. Equipment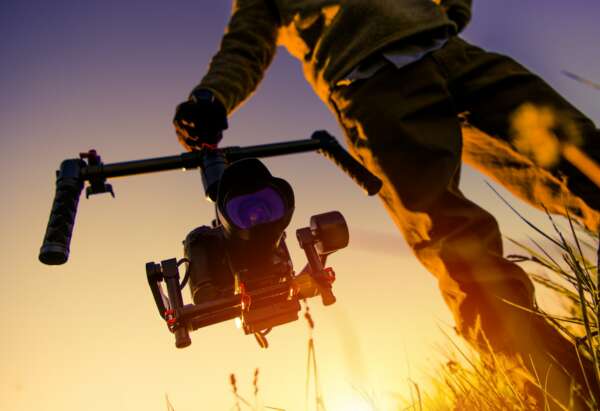 You might have guessed from the previous point, that when it comes to investing in filming and other equipment, there is something for every price range. So firstly, depending on the type of videos you make (Gaming, daily vlogging, Tutorials, Travel, short films, etc.) list down your requirements. Here are a few common requirements most YouTubers go for:
Tripod- No one likes a shaky video – it makes the video feel all over the place and a little uneasy to watch. There are affordable tripods on platforms like amazon not just for cameras, but also for phones. If you're going to be incorporating a lot of motion work in your videos – for example, a travel vlog where you're walking around with the phone in your hand, recording things – go for a three-point axis Gimbal for the smoothest movements.
Lighting – You can save TONS by just using Natural lighting. But, in case that's not possible, get a simple ring light to start with.
Camera – It's very easy to get caught up in GAS – Gear Acquisition Syndrome – and decide to get the best. Full frame! Latest model! Lens with the biggest aperture! But no, you don't need all that for vlogging/youtubing. Start off with a used APS-C camera off of OLX or Quikr, or if you're not confident of buying used, then a Fuji X-T200 or a Sony A6300. It'll last you a few years and serve you well.
Mic – Again, something that's available in a wide range of options, but you really don't need the top models. Buy a decent podcast mic and you're good to go.
3. Copyright-free music There are multiple free resources for copyright-free music over YouTube. YouTube itself has a library of copyright-free music. Not only that, there are many channels on YouTube that provide an endless choice of copyright-free music.
4. Stock Videos / B-rolls Stock Videos are the ultimate budget-friendly option for making YouTube videos. The purpose of stock videos is many, including saving your time and energy of going out and filming; taking away the need to buy pricey equipment to take the shots according to your vision; being able to choose from lakhs of video clips to put into your videos. But stock videos are in general very expensive and are mostly bought by big names in the media industry for advertising and other professional purposes, However, stock videos are now more affordable than ever. IndieVisual is a stock footage website, created keeping in mind the requirements of quality copyright-free stock videos, at an inexpensive cost for creators. IndieVisual has a vast gallery of stock videos of high-quality stock video clips to choose from.
5. Intro/outro/Thumbnails Intros and outros are what introduces your channel to your audience and directs the viewer to take the required call to action like subscribe, like, share, comment, join the email list, etc. Now, it's more important than ever to have proper graphics to introduce your channel and provide proper visuals to your audience. Canva is an all-in-one tool that most creators use to create short graphic videos and even Thumbnails. They have a pro version, but see if you need it – the free version might last you a long time as you grow your channel.
6. Editing software Editing is the key and the last requirement for any creator to create and upload a video on YouTube. Editing software can be very expensive, but it's very much worthwhile in case you're aiming for advanced editing. But if your editing requirements are minimal, there are many apps and software that can be budget-friendly. For example: In shots (Play store), iMovie, Filmora, movie maker 10, Open Shot, etc.
7. Teleprompter a teleprompter is a device used to look at scripts while talking to the camera, for flawless script reading. The teleprompter was once considered a luxury which was mostly used by Journalists to read the news during prime time. Thanks to smartphone apps, though, teleprompters are accessible to everyone now. Apps like Nanoteleprompter that just scroll your text on your phone screen as you're reading it, if you're using your front camera to record. It's great for anyone who prefers to go with the script or needs constant pointers while speaking.
Define your budget, and invest accordingly. There are so many options to choose from now, there's something under every budget. What matters is your content, narration, and the videos that tell a story to your audience.
Check out IndieVisual now to get stock clips for your flawless budget-friendly YouTube videos.