Creating high-quality marketing videos is an expensive and time-consuming affair. However, with thorough planning one can keep video production costs affordable – still can create a stream of new video content- that will make a brand stand out in a competitive market. It's completely possible to make engaging videos by optimally using your video production budget. Recent developments in video technology have streamlined the
video production process
– dropping considerably the cost of video ads. You can do more with less in the case of a video shoot nowadays as long as you strategize your video production.
A Few Ways to Optimize Your Video Production Budget
Here are some actionable tips that can help you to optimise your video production budget.
Plan and Prepare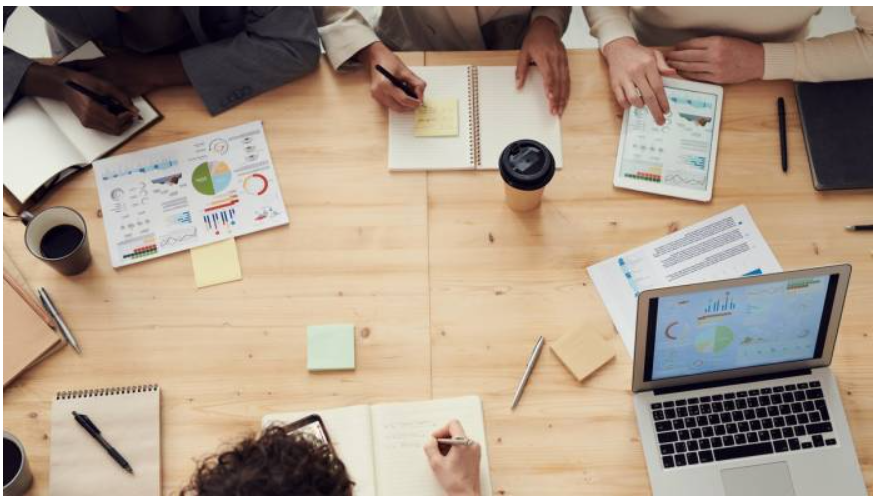 When a video production is not planned properly, there is a risk of wasting time and money. The best way to avoid this is to plan during pre-production seriously to ensure your custom shoot goes smoothly. This important step is where you identify opportunities to bring efficiency to the production process by optimum use of your existing budget. Nail down the objective of your campaign, the platforms you want your ad creative to run on, and the goals you want to achieve. Plan for every deliverable your campaign needs in the pre-production process. Don't forget about specific aspect ratios, video lengths, or file types your assets are supposed to be in. 
Limit your last-minute changes like switching filming locations or re-scheduling the shooting day that can spike your project budgets. Establishing a clear roadmap will help provide a better understanding of the amount of footage you'll need to capture. Thoroughly ideating your concept and shoot goals in pre-production ensures that you do not run into costly, unexpected expenditures in the post-production phase like the need for a reshoot or re-edit or additional shots.
Decide the Budget
To optimise the budget, it is necessary to decide the budget. You need to go through the script and do the listing of necessary shots. Estimate the cost needed to film these scenes along with other expenditures like location, actors, crews, props, etc. Write down details of every aspect of the production along with the cost associated with it. When crafting your creative concept, be conscious of your budget. Know that a shoot may run longer, and costs may go up. So, always set aside an amount in your budget to meet unexpected emergency expenses. The more specific your design needs are, the more your budget will increase. Divide essential elements from non-essential ones. You can then easily optimise the budget by removing certain non-essential components, which involve high costs.
Audit Previous Production Costs
Scan through earlier production budgets, examining the key metrics that ballooned your campaign costs. This post-mortem will surface superficial add-ons. Prioritize driving these costs down. That could mean sticking your shoot to one location or rethinking your scenes and making changes in the script and storyboard.If you are doing a
video campaign
for the first time, don't worry – you can still figure out an approximation by reviewing costs for static image ad campaigns. How much did you pay the photographers? Did you use any graphics or animation? Did you hire models?
Find a Budget-friendly Location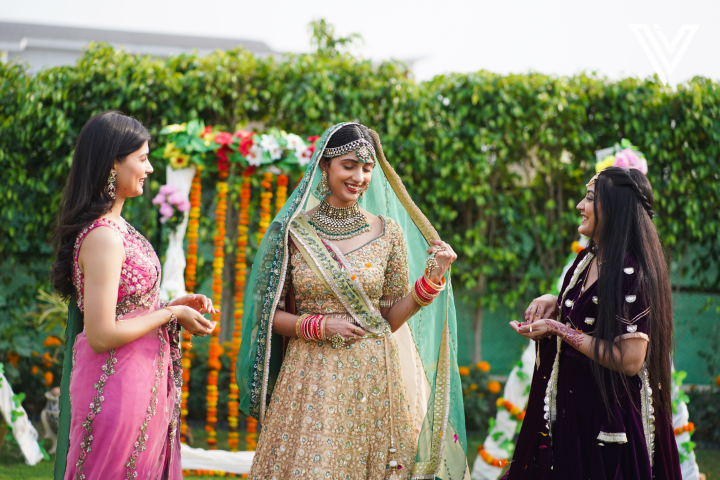 Let your location not eat up most of your budget. Either scout for budget-friendly locations, free locations or get creative to turn any place into a place of filming. You may choose to shoot outside – and thus only incur some permit costs. Avoid shooting in the busiest street of the city, as this may lead to interruptions and permission hassles. Find out off-beat, isolated spots that can provide the same backdrop. If you do need to shoot on location, book well in advance to avoid last-minute upcharges. We just did a wedding shoot, for which we booked a farmhouse in Greater Noida, and we booked it well in advance – so we ended up saving a good amount of money.Choose locations that will cover your entire repertoire of scenes, so you don't need a second location. Use stock footage or B-rolls in case of minor shots to save on that extra time, effort and money. Check out our
blog on B-rolls
to get a better idea.Use a solid-coloured backdrop or a well-lit space if you plan to shoot in your house. You may also choose local shops, cafes, bars, and offices. The owners might agree to a lower price or let you film for free – as it will be like
user-generated advertising for their business
.
Repurpose Existing Assets
Another great option to curtail your video marketing production costs is by
repurposing existing assets
. This means using existing B-roll footage or stills from previous campaigns in your forthcoming campaigns. Edit them to make them look like new assets. You can even simply change the on-screen text or add a new voiceover to align it with the new messaging of the campaign.
Hire Strategically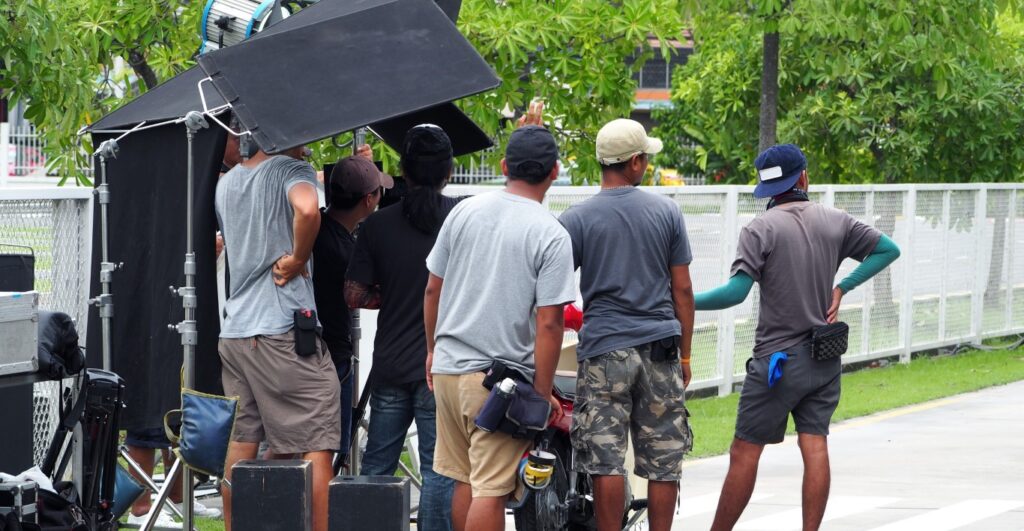 A general assumption among brands is that hiring a professional video production company is too expensive for their project. In reality, working with a pro might be more cost-effective in the long run. You will get access to great equipment, expert crew members, expertise in finding locations and talent, top-notch scriptwriting and efficient production. Ultimately, the high-quality video you will get by hiring a
video production company
can deliver better ROI. However, hiring a media production company can inflate your production budget. If you are planning a high-profile campaign, then definitely opt for a professional video production company. Every video project may not require a high level of expertise, especially if it's related to regular campaigns. Instead, you may hire a few experts in indispensable areas and some zealous amateurs who are ready to work for lesser pay. You can also cut down your cost by eliminating extravagant sets, elaborate costumes, props and wardrobe changes.
Create Shorter but Compelling Videos
Longer videos are always higher ticket affairs. All the extra shots, more hires, locations and editing time rack up the costs. To stay budget conscious, it is better to create impactful videos that are one to two minutes or less. Short videos also capture people's attention better than longer ones. Spend more time refining your script and storyboard to tell a crisp and compelling story within a shorter duration.
Use the Right Tools in Post-Production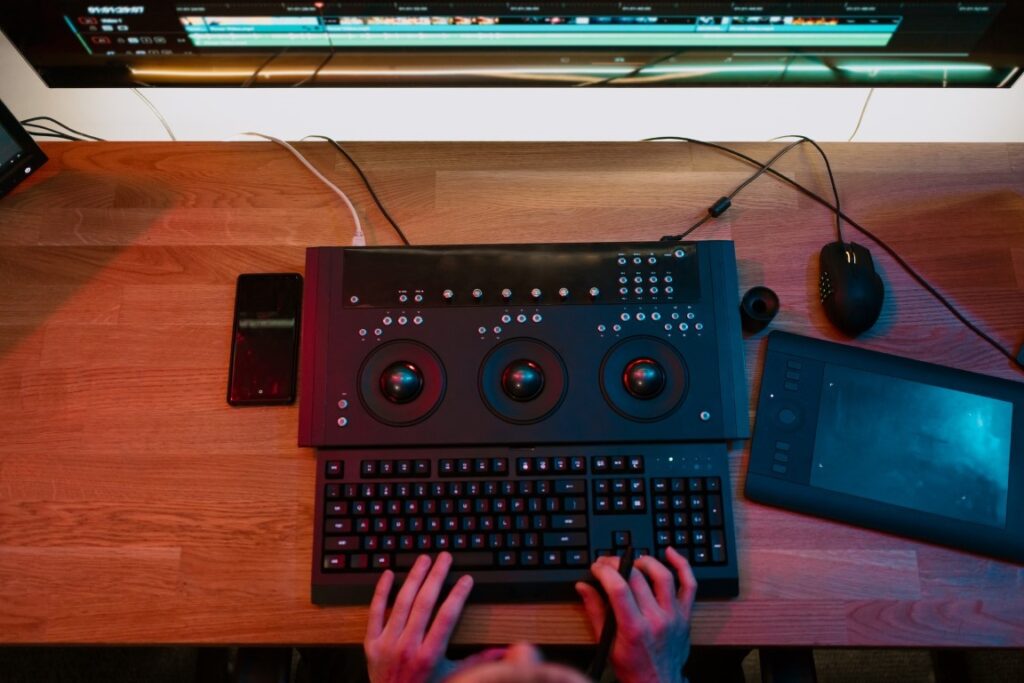 Post-production is the stage where the final video begins to take shape, with editors adding those creative touches to make your videos look polished. Animators and graphic designers add in the VFX that can make your videos stand out. This phase often makes a difference between whether you have an average-looking video or a pro-quality video. Post-production can drag on and hike up costs if you don't plan properly. You need to choose the right tools to save time and money here. For example:
DaVinci Resolve is one of the best video editing softwares to edit footage, and it's free, unless you need some very advanced features.
You can use Sonix or Rev for adding subtitles and captions to your marketing videos.
Audacity is a great choice for editors to add sound effects or voiceovers to videos.
Use Canva and Animaker for adding graphic designs and animations.
The best suggestion we can give you is to plan well in advance in every area where money could be spent, and then consider ways to curtail these costs. However, do not try to cut down your costs where it is a necessity. Some costs you just HAVE to include and cannot be ignored.Here's another way to make your production process more efficient and optimised: Using Indievisual's Video Production Services. We streamline the production process by connecting brands to professional video content creators and a pool of other experts to deliver high-quality videos at affordable pricing.Does it sound unbelievable? Well, give us a call and we'll describe how we work!