You hang out on a weekend with your friends at a nice café. You post multiple pictures of the food that you order, the ambience and the surroundings on your social media handles, tagging and geotagging the café to show what a lovely place it is. Congrats, you've just created user-generated content for the café, and helped them boost their social media presence – so everyone wins.
What is User Generated Content?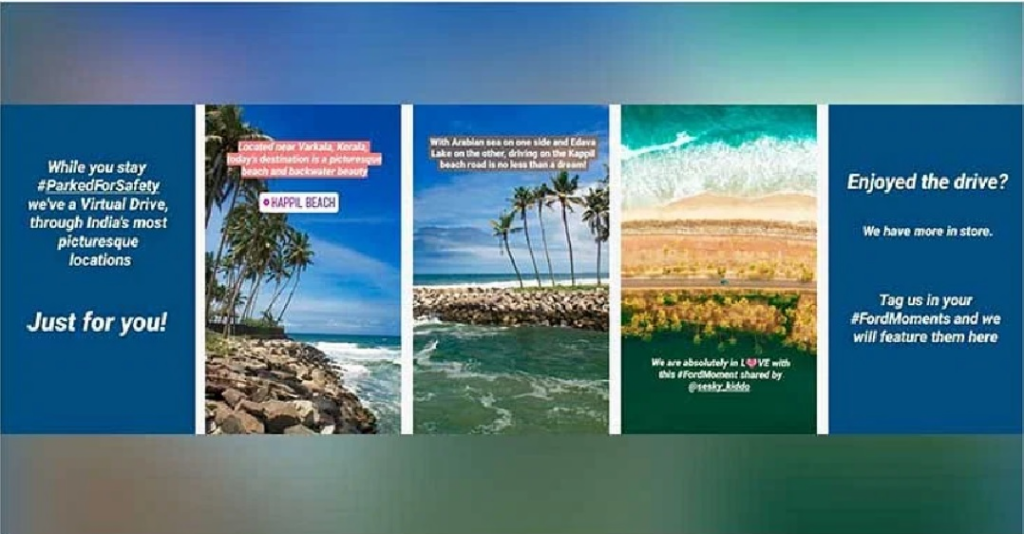 Courtesy : https://www.exchange4media.com/pr-and-corporate-communication-news/user-generated-content-by-brands-is-the-trend-here-to-stay-105194.html
User-generated content (UGC)
 means any type of content like posts, images,
videos
, reviews, etc. created by the consumers and not by the brands themselves. This content is shared online for anyone to use. Why would users create something for a brand without any compensation? This is a common question that can cross your mind. The reasons for this behaviour are:
Social Connectedness
Many people are guided by the desire to help others. The internet and digital platforms allow them to freely give in their opinions, suggestions and recommendations. By posting a review or an image, people identify with others who are also consuming the same products. It makes them feel like part of a community. So, people are motivated to make free content and share it with others.
Incentives
Free samples and monetary rewards like discounts, cashback or credit points also act as a motivating factor for many people to create UGC.
Who creates UGC?
There are three main sources of UGC for most brands.
Customers
Most user-generated content comes from regular customers. They may post a review or a testimonial about your product or service on their own. They may share unboxing videos on their YouTube channel, or share an image while using the product. They may post UGC organically or they might submit content in response to a feedback campaign.
Brand advocates
Brand advocates are your dedicated customers who are already extremely fond of your brand. They believe in you and love to create content about your product or service. They are your prominent cohort who can be asked to create something specific.
UGC creators and influencers
A UGC creator is someone who creates sponsored content that appears to be real and original, to promote the brand. They do curate organic UGC — they are paid by brands to create content that 
mimics
 traditional UGC.
Types of UGC
User-generated content comes in various formats. A proper strategy must be sketched to utilize them in the right way to fit the brand.
Visual content can include videos and images. It can be a testimonial Video/Image of someone using your product or service, the user at your store, unboxing videos, live streams or product demo. Like Indievisual, our one-stop platform for India-centric stock footage and custom shoots.
Reviews and ratings are other important and easy types of UGC. Reviews give a kind of validation to potential customers while taking purchasing decisions. Ratings are an easier way to obtain from customers, as they require one to click on a few choices.
Social media posts include blogs, posts, reels and vlogs across various social media platforms like Twitter, Instagram, YouTube and so on.
Benefits of User-Generated Content
UGC has currently become one of the prime choices of marketers for their brand campaigns. It hugely influences how customers engage with and perceive a brand. It has helped brands attract the target audience's attention like never before. The major advantages that UGC can bring to a brand to help it stand out in the competitive business landscape are listed below:
1. Adds Authenticity to your Brand
The main advantage of UGC is that it is created by real people sharing their real-life experiences of using a brand's products, making the content trustworthy for potential peer consumers. Going by this list of
stats about user-generated content
88% of consumers trust online reviews written by other consumers as much as they trust recommendations from their personal contacts. People more readily trust the recommendation of a normal person than a hired perfectly looking model/ celebrity vouching for a brand. It is always recommended to avoid faking UGC. It can seriously damage the brand's face as the audience quickly sniff out the artificiality.
2. Drives Brand Loyalty and Community
When a brand shares audience content, it develops and deepens audience-business relationships. Nike, the leading sportwear brand regularly calls out for UGC to drive brand loyalty and foster community. The brand regularly generates and reposts user content on their social accounts.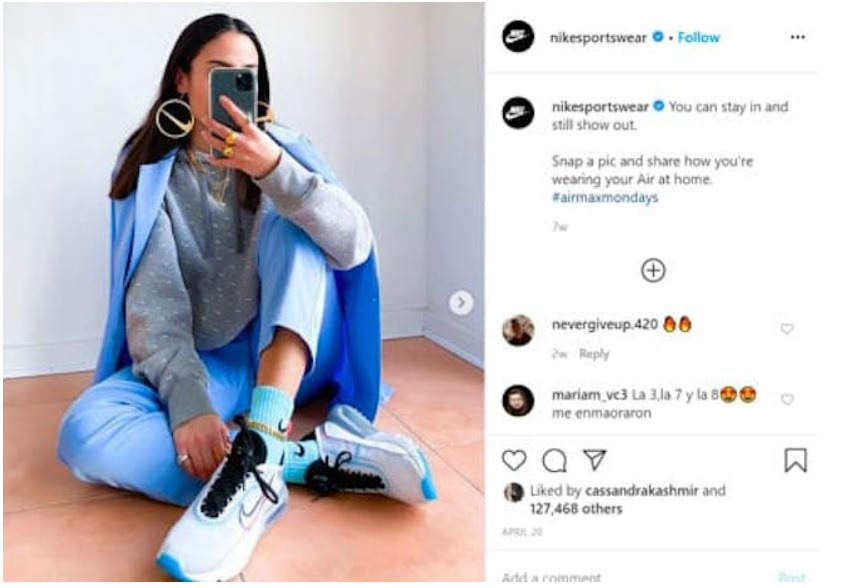 Courtesy : https://digitalmarketinginstitute.com/blog/how-to-use-user-generated-content-ugc-with-4-great-examples
Acknowledgement or a mention from a brand can excite a customer. They are more likely to engage with and purchase from a brand if it shares customers' social posts in its marketing. At the same time, a loop is formed – where a customer choosing a brand based on UGC in turn is encouraged to create further UGC – driven by the innate desire for belongingness and social connection. UGC gives a unique opportunity for buyers to participate in a brand's growth instead of being an onlooker. This influences brand loyalty and builds a brand's community.
3. Increases Conversions
Every brand and marketer look for conversions of an audience into a buyer. UGC perfectly helps to increase conversions and sales of a brand. Incorporating UGC rightly into the marketing strategy helps incredibly in influencing purchasing decisions of buyers. UGC acts as social proof validating the product as worthy of buying.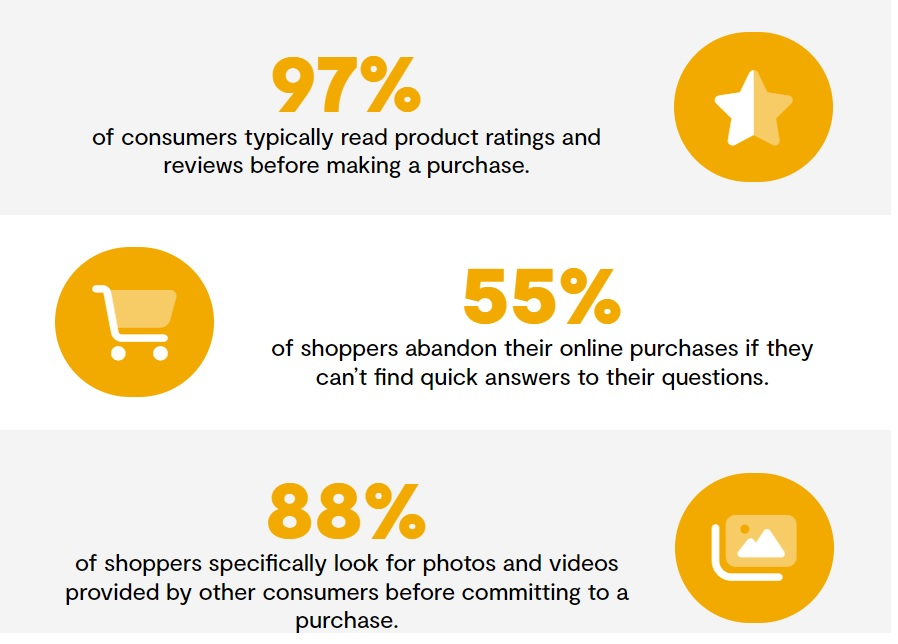 Courtesy : https://www.powerreviews.com/insights/2021-ugc-conversion-impact-analysis/
4. Cost Effective and Unique
UGC is a cost-effective way to scale up your business. When you use UGC as one of your significant marketing content, you present to your audience something unique each time you post. So, they will always have something new to engage with each time they come across your marketing channels. This content will happily co-exist with work you do through
custom shoot
agencies, to give you much more comprehensive marketing outreach.Some consumers will be overzealous to get the spotlight from your brand. This will drive customers to be more creative. All this can happen with little cost involvement. UGC also helps to re-engage your audience, unlike brand-generated content that has the potential to cause banner blindness-where the audience consciously chose to ignore information passed on through ad banners. UGC can cut through the clutter of other salesy ads. See how GoPro uses UGC in the majority of their advertising. They are constantly keeping their YouTube channel up-to-date with UGC directly from their customers – which is pretty good considering it costs nothing to produce.
5. Benefits Your SEO
User-generated content can benefit your SEO as well. User-generated advertising can help your website to rank higher on Google
.
Wondering how? Here are few ways:
By increasing your website's dwell time and minimising bounce rate.
User-generated reviews are generally replete with keywords related to your brand.
By showcasing your customer review scores in your website's rich snippets, you can help your website rank higher on SERPs and increase your clickthrough rates.
6. Facilitates Omnichannel Marketing
UGC can be embedded in an omnichannel marketing strategy. For marketers and brands, regularly creating engaging and captivating content is always a challenge given the dynamic and vivid preferences of digital audiences. Access to valuable UGC ensures the limitless flow of content. Your brand can go omnichannel by repurposing the fan-made or customer content across your various digital and traditional marketing channels. You can embed UGC on your website to engage visitors. Display it on the social wall during various events to keep the attendees hooked. Add them to your primary landing pages to increase conversions. Create shoppable galleries for your eCommerce website to boost conversions.
7. Synchronises With Social Commerce
Social commerce
i.e., shopping directly through social channels is becoming a new-generation shopping trend.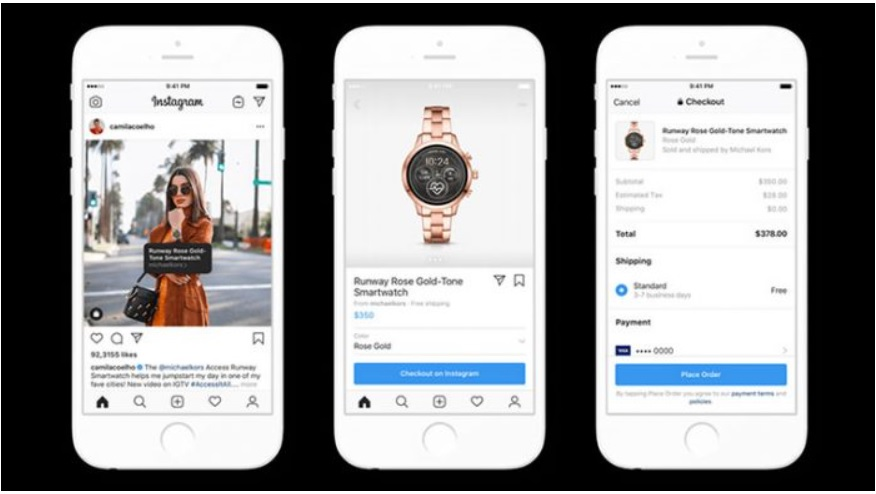 Courtesy : https://www.socialsamosa.com/2020/01/7-benefits-of-setting-up-an-instagram-shop/
User-generated content seamlessly aligns with social commerce, as an authentic, shopper-validated recommendation. Social media users see the UGC on an
Instagram
post, click it, read the reviews, and purchase the product because it's convenient and doesn't require them to go to a different website to checkout.Rightly said by Hootsuite
"User-generated content is one of the most powerful tools in today's marketing arsenal. It's proof that you have dedicated fans, products worth talking about, and a social network that will appreciate great content."
People ultimately relate to and trust other people turning
 UGC into modern-day word-of-mouth marketing. 
It is indeed a cost-effective and scalable way to create the visually engaging, personalized content experiences that consumers seek.We hope you now have an idea of the benefits of UGC. It's time to start leveraging it! Questions? Reach us at
hello@indievisual.in
!