Unmanned Aerial Vehicles (UAVs), commonly known as drones, can fly in India only in compliance with certain rules and regulations. India's Ministry of Civil Aviation (MoCA) issued a drone policy back in August, 2021 which they subsequently revised to release the more liberalized Drone Rules, 2021. Drones have proven beneficial in several sectors like transportation, agriculture, defence, law enforcement, surveillance, emergency response, etc. In the consumer sector, demand for drones has gone up with more interest in aerial photography in a wide range of businesses. After the government banned the import of drones in India, the civil aviation ministry made another major change to the drone laws in the country. It passed the Drone (Amendment) Rules, 2022.
Drone Regulations in India
You can operate a drone in India, but you must comply with the rules set forth by the Ministry of Civil Aviation (MoCA), and the Directorate General of Civil Aviation (DGCA). We, at Indievisual attempted to give our viewers an overview of these regulations through this blog.
Categories of Drones
The government has segregated drones into the following types:
Nano: Less than or equal to 250 grams.

Micro: Greater than 250 grams and less than or equal to 2 kg.
Small: Greater than 2 kg and less than or equal to 25 kg.
Medium: Greater than 25 kg and less than or equal to 150 kg.
Large: Greater than 150 kg.
Image courtesy : asteria.co.in
There is no need for any permission or certification for nano and micro category drones, as per the 2022 rules.
License, Certification and Registrations Required for Flying Drones
To operate a drone in India, you must register with the DGCA and get a license to fly it. Registrations can be done on the Digital Sky platform (national unmanned traffic management – UTM platform) operated by the DGCA. It is an online platform for drone registrations and approvals related to drone operations. According to the new regulations, all types of drones must be registered for a fee of Rs 100. You then need to obtain Unique Identification Number (UIN) and Unmanned Aircraft Operator Permit (UAOP) for your drone.
A license means the permit issued by DGCA to a person for operating drones after he/she completes training in drone flying from a DGCA authorized remote drone pilot training institute. However, the amended rules substituted the word 'license' in the Drone Rules, 2021, with the word certificate. The eligibility criteria for a drone license are:
Must be at least eighteen years old and not more than sixty-five years old;

Must have passed class tenth or equivalent examination from a recognised board.
Must have completed the training from an authorized drone pilot training organization.
Have passed a written exam.
According to aerial photographer Akshay Kanade, the training includes both theoretical and practical sessions primarily demonstrated on Indian-made drones. The training period is short and lasts from five to seven days. The fee ranges anywhere between ₹30,000 and ₹1 lakh. Once the exam is passed, you will receive a remote pilot certificate from the DGCA via the Digital Sky Platform within 15 -20 days. Once the certificate is issued, it is valid for 10 years. It can be renewed for another ten years with a renewal application.
According to the new rules, a certificate is not required for flying nano drones (weighing less than 250 grams) and non-commercial micro drones (weighing less than 2 KG). There is no need for any type of certificate and a unique identification number, prior permission, or a remote pilot license for flying a drone for research and development purposes in India.
There are currently 46 approved institutes that offer drone pilot training as approved by DGCA. You can find them on the DGCA official website. To name a few of them:
Redbird Flight Training Academy Private Limited, New Delhi

Flytech Aviation Academy, Secunderabad
Blue Ray Aviation Private Limited, Gujarat
Indira Gandhi Rashtriya Uran Akademi (across many states)
Madhav Institute of Technology and Science, Gwalior
The Bombay Flying Club, Mumbai
CASR Anna University – Centre for Aerospace Research, MIT Campus, Chennai
Restrictions on the use of drones in India
There are few restrictions pertaining to flying drones in India.
A micro drone should not fly higher than 60 meters above ground level (AGL) or faster than 25 meters per second.

A small drone should not fly higher than 120 meters above ground level or faster than 25 meters per second.
Medium and large drones must fly as per the specifications laid down in the DGCA's Operator Permit.
Area Restrictions for Flying Drones
The Indian Ministry of Civil Aviation (MoCA) has demarcated the airspace on the Digital Sky Platform specifying the area restrictions for flying drones. The airspace is color-coded into green, yellow and red zones.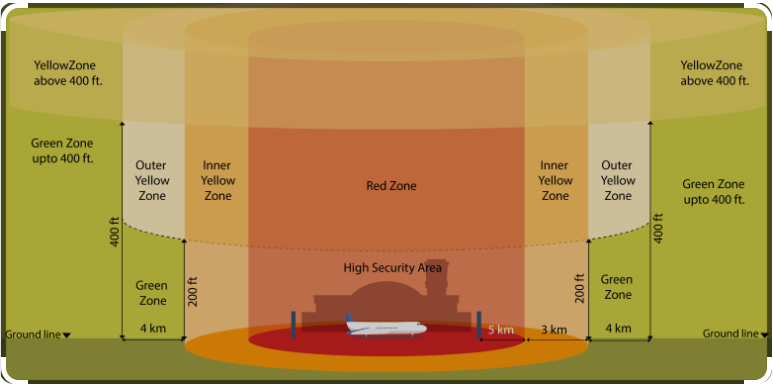 Image courtesy: Tropogo.com
No permission is required to fly drones in the green zones. Yellow zones are controlled airspace and need special permission to enter. One needs to file in the flight plan to obtain a unique Air Defence Clearance (ADC)/Flight Information Centre (FIC) number to fly in controlled airspace. "No flight permission will be required for up to 400 feet in green zones and up to 200 feet in the area between 8 and 12 km from an airport perimeter," the new rules state. Red zones are strictly no-fly zones. Red zones include areas such as military bases, nuclear power plants and other eco-sensitive areas, restricted and security zones.
No permission – No Take-off
Under the system of No Permission, No Take-off (NPNT), permission is mandatory before every drone operation. Drone pilots can seek permission via a mobile app (covered under the digital sky platform) which automatically grants or rejects the permission. This is required to intimate the time and location of the drone operation in the approved green zones. If a drone pilot tries to fly without this permission from the Digital Sky Platform, he or she will simply not be able to take off. Remote pilots also need to take permission from the local police for conducting any commercial drone operation.
Drone Specifications for Flying in India
A drone must have few specific features to get enabled to fly in Indian airspace (excluding those in the Nano category). These mandatory requirements include:
GPS
Return-to-home (RTH)
Anti-collision light
ID plate
A flight controller with flight data logging capability
RF ID and SIM/No Permission No Take-off (NPNT)
Drone pilots must ensure that they strictly adhere to all these restrictions. Failure to do so can result in cancellation or suspension of the certificate, permission granted and/or penalties, including a fine of up to Rs. 1 lakh.
Liability Coverage for Drones
A drone is an expensive piece of equipment. The question arises – is drone insurance mandatory in India? Yes, all drones larger than 250 grams need to have third-party insurance. Insurance players offer drone coverage within the guidelines set by the Insurance Regulatory and Development Authority of India (IRDAI).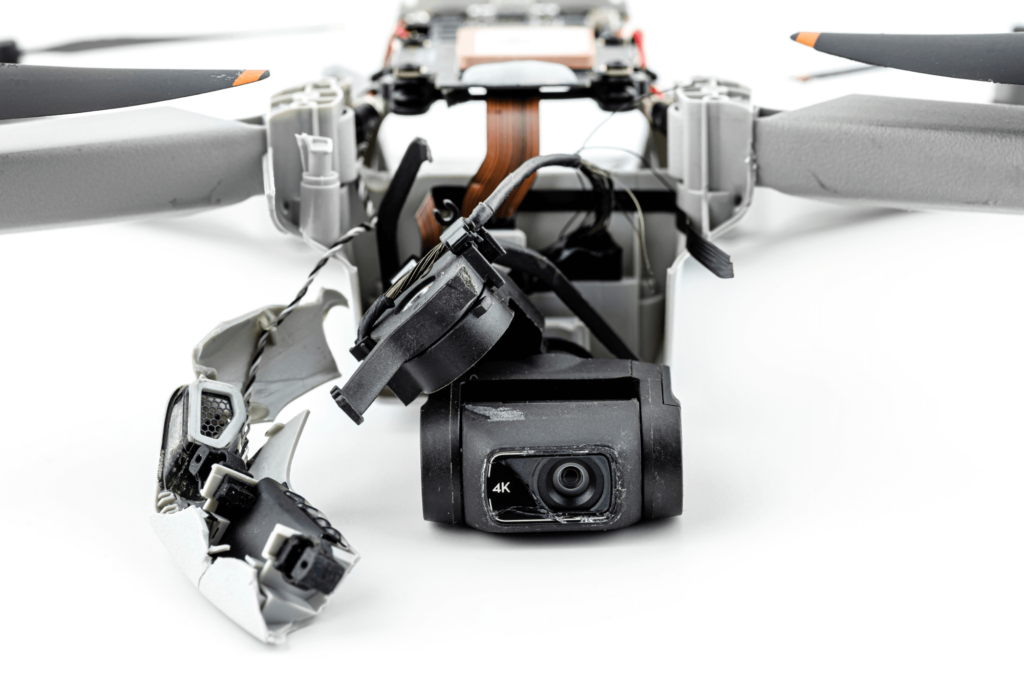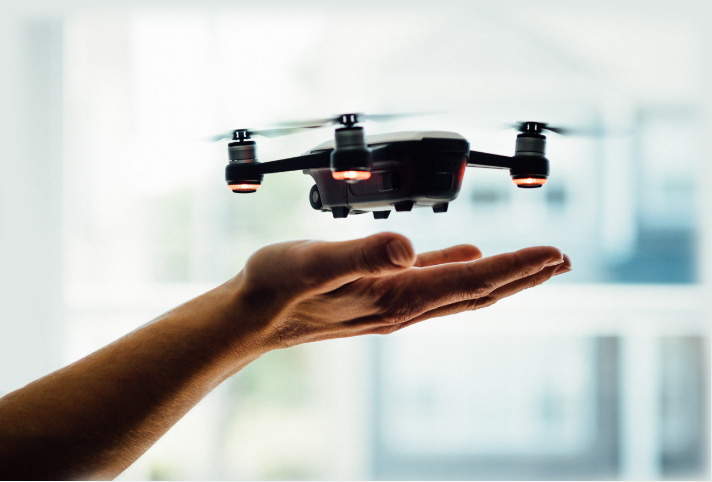 Image courtesy: geoawesomeness.com
Meaning of Drone Insurance
A drone insurance covers the loss, damage or theft of a drone. It includes coverage of the drone's payload like attached camera or sensors and any third-party liabilities for any damage caused by the drone to life or property.
Features and Benefits Provided by Insurance Plans
Comprehensive drone insurance covers the following risks:
Hull Cover

: It covers theft, damage, loss or disappearance of a drone due to some mishaps as specified within the terms of the policy.

Pay Load Cover: This includes coverage for accidental damage to the payload like additional devices attached to the drone, caused due to damage to the drone.
Personal Accident/ Medical Insurance Cover: Any pilot who suffers physical injury or meets any accident due to drone operation is covered by this type of policy. Consequent hospitalisation is also included.
Third Party Liability: This feature covers the damages or losses caused by the drone to any property or life of the counter-party.
Add-on Covers: Additional coverages include damages caused when the drone is beyond the visual line of sight (BVLOS) and during night operations.
Drone Insurance Providers in India
A few insurance companies provide drone insurance in India. HDFC Argo General Insurance Company Limited, Tata AIG General Insurance Company Limited, ICICI Lombard and Allianz General are the few initial players who forayed into drone insurance. New India Assurance is the first public sector player to enter the segment recently. These insurers offer both hull, third-party liability and add-on coverages to a pilot for any commercial drone operation within the framework given by the aviation watchdog DGCA. Also mentioned by Akshay Kanade, Tropogo is a technology giant company that offers drone insurance for commercial pilots. They provide three unique types of plans, offering flexible coverage for hourly, monthly and yearly operation of drones. They also offer coverage for an unlimited number of flights in India within a period of one month to one year. Drone insurance is still in its nascent stage of development. Like other insurance products, it is recommended to compare features across different plans.
The drone is undoubtedly a unique development in the photography world. Almost like a remote-controlled toy, drones are as much fun as they are revolutionary. However, it is pertinent that you be conversant with the legalities involved before you launch this unmanned vehicle into the sky.