Selling your photographs online has, for a very long time, been a very popular way for photographers to make money from their craft. With the rise of digital platforms, photographers now have the opportunity to showcase their work to a global audience and earn an income by selling photographs online from it. In this blog, we will explore the must-know tips for selling photographs online from Dinesh Gaur, a professional photographer, and expert in the field.
Selling Photographs Online
There are several platforms available for photographers to sell their photographs online, including stock photography websites, marketplaces, and personal websites. Each platform has its own set of benefits and drawbacks, and photographers should carefully consider their options before deciding where to sell their photographs.
During our interview with Dinesh Gaur, he aptly described the demands of being a photographer. To excel in this field, one must possess the ability to multitask and be omnipresent, constantly juggling multiple tasks simultaneously. In essence, being a photographer means being everything, everywhere all at once!
Stock Photography Websites
Stock photography websites like Shutterstock and ours offer photographers the opportunity to sell their images to a broad range of customers, including businesses and media outlets. These platforms typically have a large customer base and offer a high volume of sales opportunities. However, the competition can be fierce, and photographers may need to work hard to make their images stand out from the crowd. Additionally, the royalties paid to photographers on some platforms may be lower than the prices provided by other platforms.
(Here's were we come in – sign up now, and you can earn 50% commissions all the way through till December 2023!)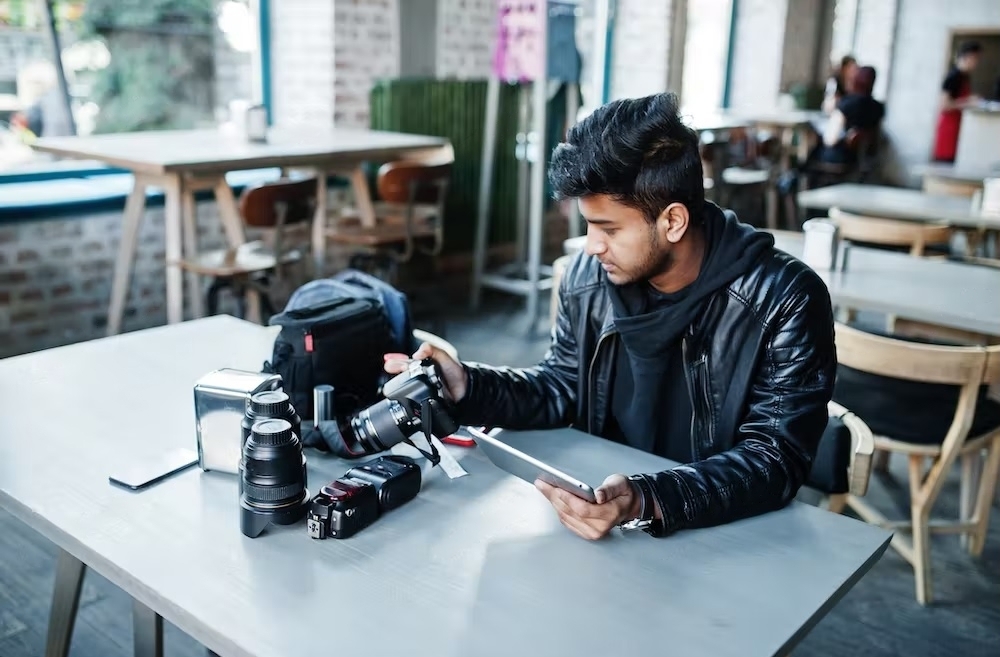 Smart young Indian photographer working with tablet and surrounded with camera equipment.
Marketplaces
Marketplaces like Etsy and Creative Market are popular among independent photographers and artists who want to sell their images directly to consumers. These platforms typically have a smaller customer base than stock photography websites but can offer higher profit margins for photographers. However, photographers may need to spend more time marketing their work on these platforms to attract buyers.
Personal Websites
Personal websites are another option for photographers who want to showcase their work and sell it directly to clients. These platforms offer photographers the most control over their brand and pricing but may require more effort and investment in website design and marketing to attract customers.
Considerations for Photographers
When deciding where to sell their photographs online, photographers should consider factors such as the type of images they specialize in, their target audience, and their marketing strategy. They should also research the fees, commission rates, and licensing agreements for each platform they are considering to ensure they are getting a fair deal.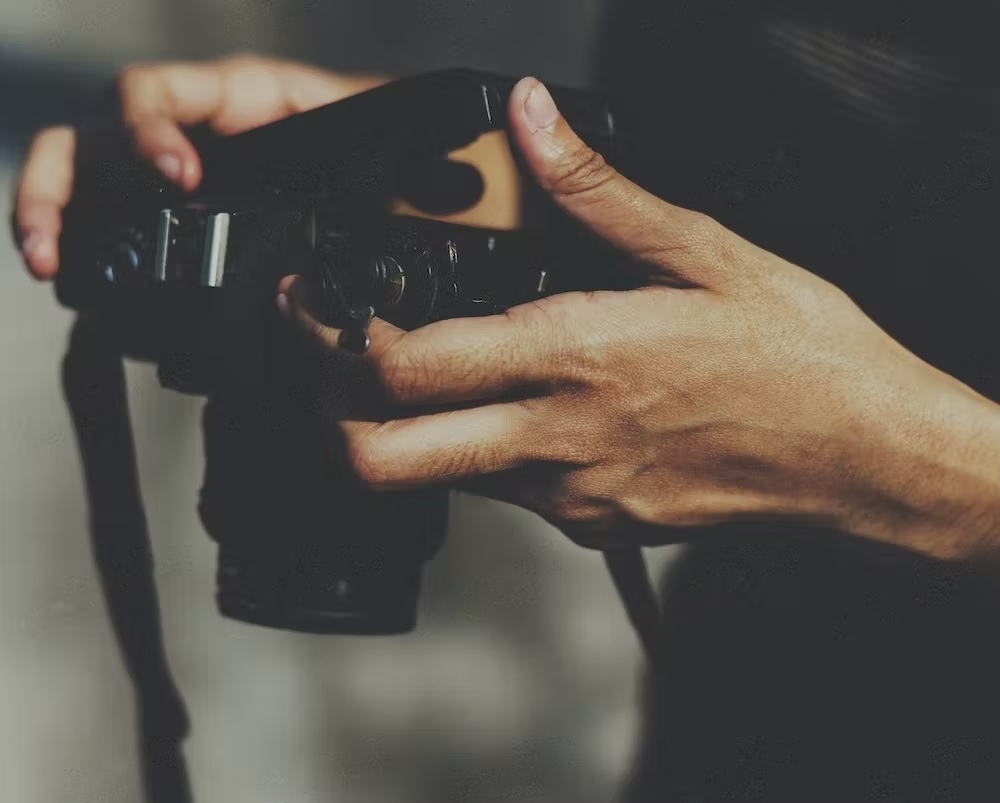 Closeup of hands checking film in camera.
Must Know Tips for Choosing your Subjects for Stock Photography
As someone who has spent 30 years in the photography industry, professional advertising and food photographer Dinesh Gaur has a wealth of knowledge to offer. He believes that photographers should prioritize understanding their clients' needs and creating cost-effective stock photos and footage that convey a meaningful message. To avoid burnout, photographers should strive to stay creative and identify timeless concepts.
With the increasing emphasis on video content, photographers should consider turning their conceptual photographs into high-quality footage that aligns with current trends. They should also think commercially and shoot intentionally, considering the needs of small businesses and startups. Additionally, Dinesh suggests utilizing the resources around you, such as shooting everyday people in their daily activities.
Knowing your priorities is also important; photographers should be transparent with clients about their intentions to sell their work as stock after a specified period. Photographers should also consider capturing continuity in their work, such as before-and-after shots or videos that showcase gradual changes over time.
Thinking creatively and approaching photography with a fresh perspective can also help photographers stand out from the competition. Dinesh recommends using normal people in your images and marking important festivals and events on your calendar to anticipate the demand for certain types of imagery.
Above all, Dinesh emphasizes the importance of taking stock photography seriously, even as a hobby. By following these tips and prioritizing their client's needs, photographers can create impactful work that stands the test of time.
Common Mistakes To Avoid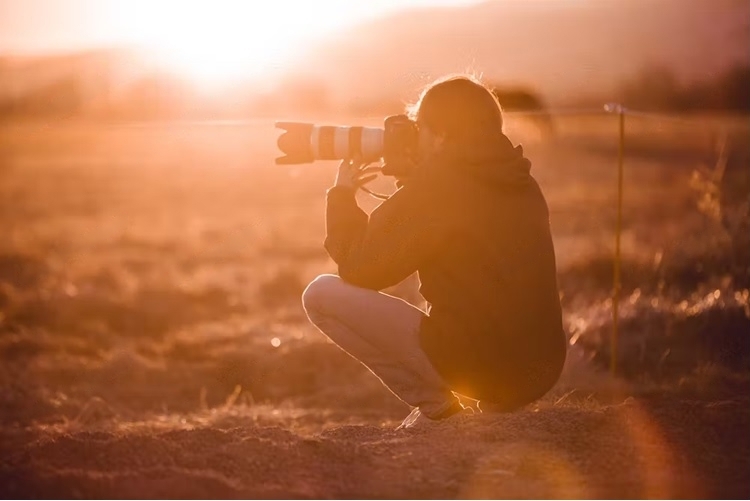 Back view of a photographer capturing the sunset
While selling photographs online can be a lucrative opportunity for photographers, there are some common mistakes that they should avoid:
Poor quality images: To stand out in the crowded online marketplace, your images need to be of the highest quality. This means using proper lighting, focusing techniques, and post-processing skills to produce images that are sharp, clear, and visually appealing.
Lack of research: Before diving into the online marketplace, it is important to research the various platforms available and understand their unique benefits and drawbacks. Failure to do so can result in wasted time, money, and effort.
Inappropriate pricing: If you're selling on a marketplace, pricing your photographs too high or too low can be detrimental to your sales. It is important to research the market and competitors and set prices that are competitive and fair.
Neglecting marketing: Effective marketing is key to success in the online marketplace. This includes utilizing social media, search engine optimization (SEO), and other marketing strategies to drive traffic to your portfolio and increase your visibility.
Not protecting your work: Copyright infringement is a real risk when selling photographs online. It is important to protect your work by using watermarks (if you're selling on your own site), digital rights management tools, and carefully reviewing licensing agreements.
Focusing on quantity over quality: While it may be tempting to upload many photographs to increase your chances of sales, it is important to focus on quality over quantity. Buyers are more likely to be attracted to a smaller number of high-quality images than a larger number of mediocre ones.
If you are a photographer interested in selling your work online, we encourage you to start exploring the different platforms and resources available. There are many options to choose from, including stock photography websites, marketplaces, and personal websites. By taking the time to understand these options and how to effectively use them, you can open new opportunities and reach a larger audience.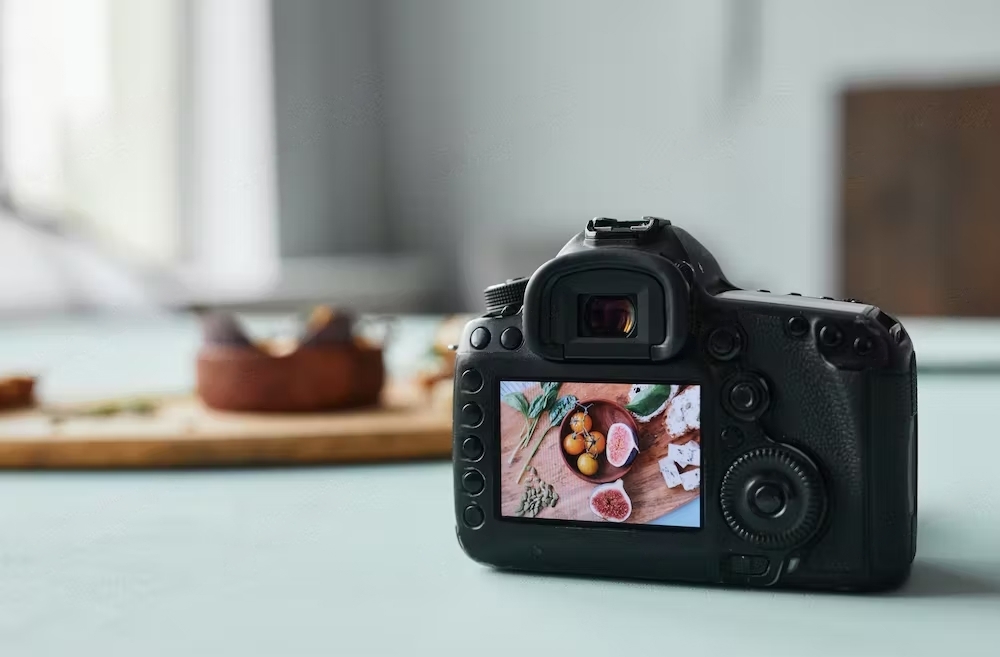 Close up of digital camera with food photography on screen in a studio setup.
For additional resources and information on selling photographs online, we recommend checking out online tutorials and guides, as well as forums and communities where photographers can share tips and advice. With the right approach and a commitment to quality and professionalism, selling photographs online can be a rewarding and profitable experience for photographers of all levels.