India is biodiverse, with numerous wildlife sanctuaries, national parks, and bio-reserves. Proper management of forests and conservation of flora and fauna have remained challenging tasks for the forest departments, conservationists, and frontier staff. India currently has almost ten animals listed as endangered species by the International Union for Conservation of Nature (IUCN). The reason for the dwindling population of these species, such as the snow leopards, Asiatic lion, Kashmiri red stag, or the Nilgiri tahr, is attributed to reasons ranging from poaching, animal-human conflict, climate changes due to mass deforestation, reduction in pasturelands, forest fires, and land clearing. So, a dire need appeared to find ways to prevent or at least take measures to reduce these threats. Thanks to this new age technology – drones. They are emerging as the perfect aid for forest authorities and conservationists in their ongoing efforts to conserve wildlife and biodiversity. 
Drones and Wildlife Conservation  
Drones adopted widely in forestry have proved beneficial due to their low operational costs, light weight, reliable data collection, and accessibility in high-risk areas. They have been successful in tracking illegal activities, monitoring and mapping animals, counting species populations, forest fires, poaching, status of water bodies, encroachments and assessing overall forest health. Some of the ways drones are used to safeguard animals are outlined below.  
Aerial Survey and Animal Monitoring  
Drones equipped with cameras and sensors lead to high-resolution aerial surveys from a distance. These allow conservationists to observe and study animals, count the species, map the population density, track animal movements, monitor animal health, detect changes in habitat, behaviour and alert rescue missions. Tracking the correct data helps in proper management and allows the authorities to implement well-planned precautionary steps.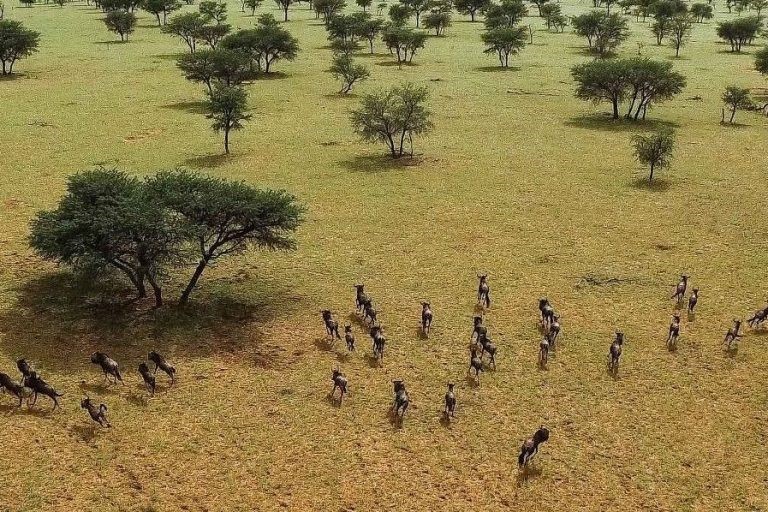 Animal Monitoring Using Drones in Forest of India Pic Courtesy: news.mongabay.com
Reduction in Animal-Human Conflict
Wildlife officials use drones to track wild animals that stray into human settlements. Forest areas in many parts of India are adjacent to human territories, leading to animal-human conflicts. Elephants often wander into villages. Leopards and tigers are ill-famed for killing livestock. Some tigers even become man-eaters due to loss of habitat or injury. Many farmers install electrical fences illegally to protect their crops, severely injuring or killing many animals. Wells dug by farmers for irrigation lead to many drownings of wild animals loitering around. Drone surveillance is a workable way to tail all these incidents and take timely actions to reduce the conflict between man and wildlife.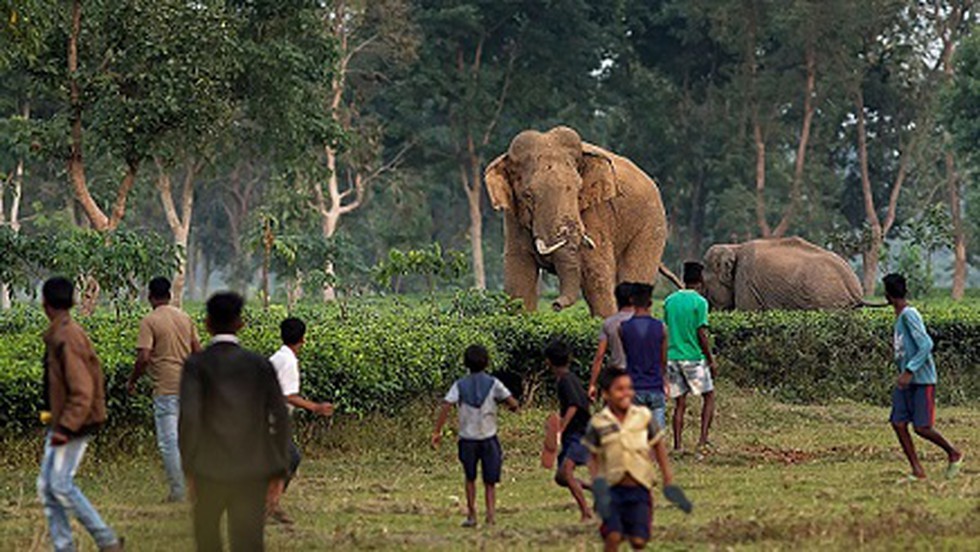 Elephants Straying into Human Territories. Pic Courtesy vajiramias.com
Detection of Illegal Activities  
Quadcopters (drones with four rotors) are widely used for patrolling wildlife sanctuaries and national parks. Poaching and smuggling are rampant in India. Wildlife poaching for various body parts of animals like pelts (Bengal tigers), horns (rhinos), tusks (elephants), casques, and beaks (hornbills) has led to a gradual decline in the numbers of many animals.
Unlawful activities like land encroachments for livestock grazing and illegal logging lead to habitat loss and fragmentation of many animals and birds. Illegal logging in the Eastern Himalayan forests in Arunachal Pradesh poses the biggest threat to rare hornbill species. The Indian bison has unfortunately lost more than 70% of its population in many parts of their range due to shrinking habitats and food scarcity from the destruction of grasslands. UAVs can detect the presence of poachers and other illegal activities in remote areas and alert local authorities.  
Management of Forest Fires
Forest fire is a catastrophe that can never be eradicated. India reported 345,989 forest fires from November 2020 to June 2021, according to the State of Forests Report, 2021, with frequent and massive outbreaks in states like Odisha, Madhya Pradesh, Chhattisgarh, and Uttarakhand. Forest fires cause enormous damage in terms of loss of vegetation and wildlife. Many animals and birds are rendered homeless and starve to death due to the loss of habitat and foraging areas. Drones can scan vast tracts of forests – help in early detection or identifying the potential risks to prevent these alarming fires.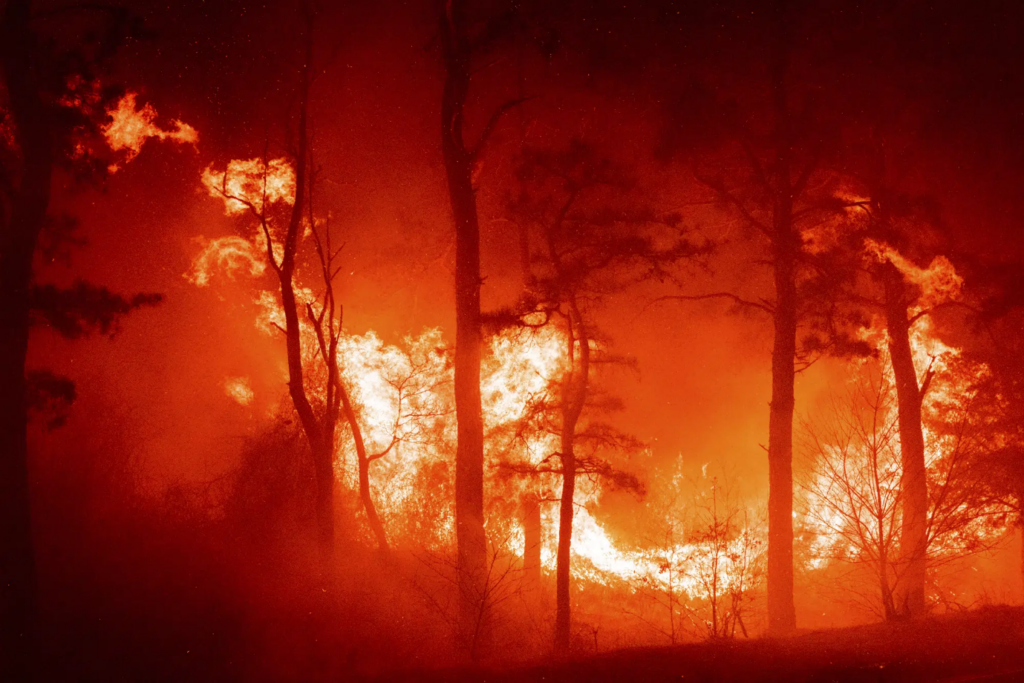 Forest Fires. Pic Courtesy: apnews.com
Thermal imaging drones are sensitive to heat signals or temperature differences in the environment and detect forest fires in the early stages. Timely detection of the fire can prevent it from spreading. Drones fitted with water sprinklers can be used to douse forest fires. They can also track down an ill or injured animal or bird in the area and alert forest officials for speedy aid and rescue operations.   
How are Different Forests of India Utilising Drones?  
Drone testing in Panna started in 2017 when a team from the National Tiger Conservation Authority (NTCA) and the Wildlife Institute of India conducted drone testing over Panna. In August 2021, Panna Tiger Reserve constituted a "Drone Squad." The Drone Squad is responsible for conserving, monitoring, and managing wildlife. So far, it has been successful in searching and rescuing wild animals, detecting forest fires, protecting and reducing human-animal conflict, and assisting the field staff in monitoring poaching activities. The forest officials acquired a new night vision (thermal and IR) drone in its squad in December 2022 to ensure 24-hour vigilance in sensitive areas of the forest. The squad consists of a DJI Phantom drone with sufficient batteries, an operator, an assistant, and a dedicated vehicle.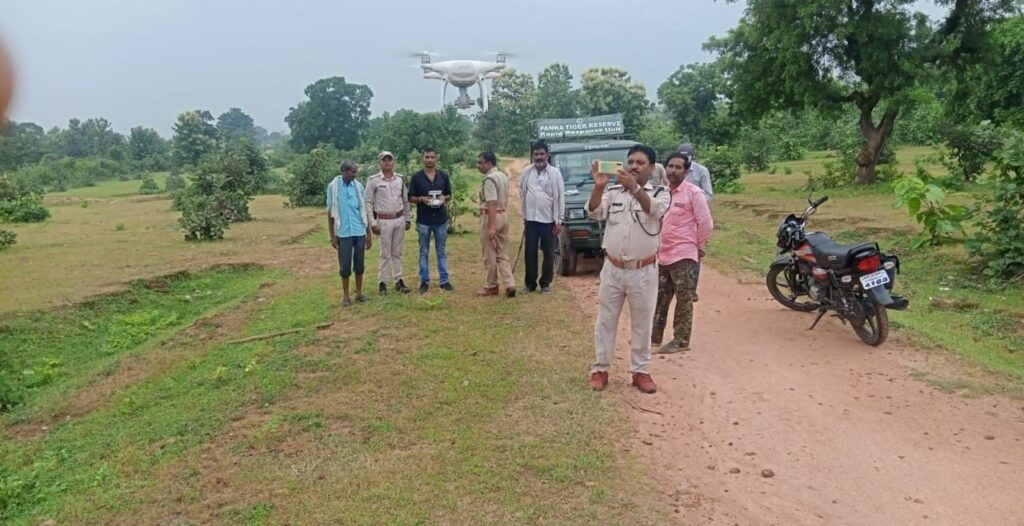 NTCA Officials Testing Drone Over Panna. Pic courtesy: Twitter_ NTCA India
Kaziranga National Park in Assam is the first state to deploy drones to protect endangered one-horned rhinos from getting poached. A trial run for drones had been done as early as 2013. However, only in 2017 did the use of drones for inspection and monitoring in Kaziranga get approval from the Central government. In 2018, it acquired three advanced drones with thermal features for night vision, customised for surveillance covering 4km with a flying duration of 40 minutes. Officials and staff of the national park and other wildlife divisions were being trained on both the theoretical and practical aspects (including field demonstrations) of operating the advanced Unmanned Aerial Vehicle (UAV). Due to the anti-poaching crackdown, poachers have been put behind bars in the state.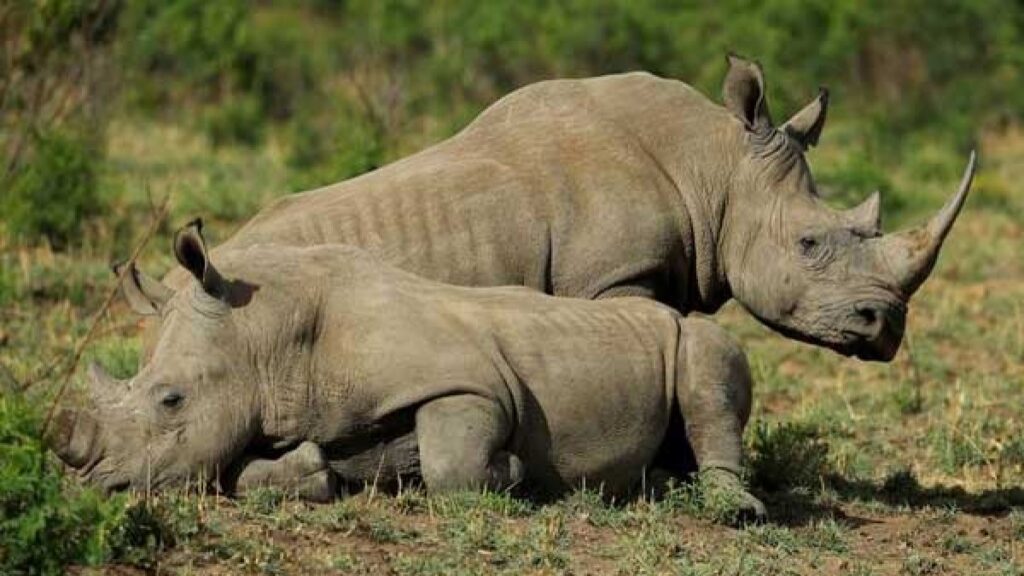 Rhinos in Kaziranga National Forest, Assam Pic Courtesy: oneindia.com
The Odisha Forest Department has deployed thermal drone cameras in the Keonjhar and Simlipal reserve areas to monitor the nocturnal movement of pachyderms and wild elephants, to reduce catastrophic incidents between people and animals. The vast expanse of dense forests in these areas often witness man-animal conflicts, with both humans and animals losing their lives or succumbing to disabilities. Dr. Samrat Gouda, the Simlipal Tiger Reserve's deputy director said, "Due to drone technology compared to last year, conflicts between people and elephants in the forest have decreased. The thermal drone has emerged as an effective tool to prevent the straying of wild elephants during night hours." Six drones are deployed in Simlipal, Baripada, Rairangpur, and Karanjia divisions to monitor forest fires, take corrective measures based on the aerial images of rising flames, and identify poachers who habitually set fire to patches of the jungle to hunt down animals.
The Tamil Nadu Government has installed five drones equipped with thermal detectors and infrared rays in the forest areas of Nilgiris, Coimbatore, Dindigul, Hosur, and Tirunelveli for real-time monitoring of animal movement and managing the spread of forest fires. The buzzing sound created by drones can shoo away elephants, which otherwise requires 50–80 persons.  
The Gadchiroli forest department has been using drones to monitor the rising numbers of animals due to the influx of elephants from Chhattisgarh and tigers from the Tadoba Tiger Reserve. This is being done to alert villagers if there is a chance of an encounter with humans.  
Ethical Implications of Using Drones for Wildlife Conservation  
Drones have impacted forestry positively in their efforts to conserve the numerous faunae from the adversities of nature and humans. But there are a few severe potential downsides to using drones in wildlife surveillance.
Wildlife Disturbance
Research by Dr. Margarita Pazmany and Jarred Hodgson from the University of Liverpool and Adelaide, respectively, found some results showing the adverse effects of drones on animals. It suggests that the sight and sound of a hovering drone induce stress in many species, like increased heart rate, and fight or flight response. Many animals exhibit anxious reactions that adversely affect their mating and reproductive behaviour. Many leave their young ones and flee, making the eggs or the babies vulnerable to predators. Many raptors like eagles and vultures attack the device on spotting it, thereby injuring themselves.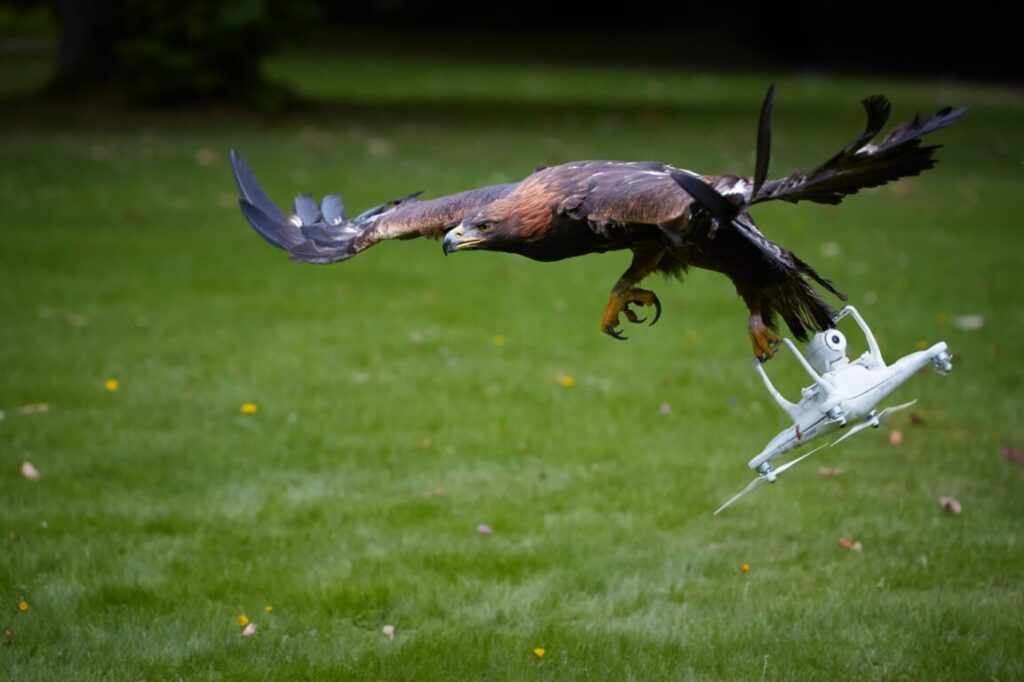 An Eagle Attacking the Drone Pic courtesy: coptrz.com
Mulero Pazmany and Hodgson have recommended a few pointers which drone fliers should follow while monitoring wildlife, to minimize the adverse effects.
Using small, less noisy drones  
Using drones that don't look like a predator   
Flying at the high altitude possible  
Avoiding flying erratically and changing paths on spotting an animal  
Receding when animal behaviour becomes disturbed  
Minimizing flights during the breeding season  
Wildlife Safety  
Another repercussion of using drones is drone crashes and their consequent effect on wildlife. Drones fly at high speed. However, there is always a risk of it getting damaged and crashing. Drone crashes can severely injure animals and birds and lead to fire.
Drones, be it for enhanced wildlife photography or utilising for safeguarding animals, provide many advantages. But it is coupled with the responsibility that drones must aim to conserve rather than harm. Efforts are constantly being driven to improve these devices with more new-age designs to avoid mishaps.
Drones are suitably adapted by Indian Government along with the forest departments for wildlife monitoring and conservation. Several drone startups have come up in India in recent years which offer services like wildlife monitoring and survey. Hopefully, these initiatives will continue to stride in momentum, so the cry for safeguarding the animals and creating a safe environment for them doesn't remain a far-fetched reality. As a photographer, if you wish to put in your efforts to conserve wildlife, you must be well aware of the legal regulations of flying a drone. (Check our blog to know the legal regulations of flying a drone in India). Flying drones in and around national reserves, parks, biospheres and sanctuaries is strictly prohibited. However, with the right permissions, drones are allowed in these areas only in cases of national interest or upholding the security of wildlife and the country.